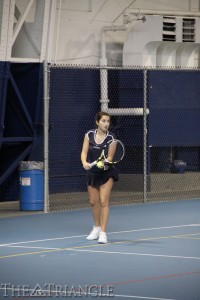 Sophomore Zeynep Mafa gets ready for a serve at the baseline. Mafa lost her last match against George Washington University 6-0, 6-3. The Dragons next match is in Bethlehem, Pa. against Lehigh University.
Following a stretch of three consecutive home matches, the Drexel University men's tennis team traveled to Annapolis, Md. Feb. 12 to face the United States Naval Academy Midshipmen.
The Dragons entered the match on a hot streak after winning four consecutive matches, the most recent of which was a 7-0 rout of Coppin State University Feb. 5 at the Armory. However momentum was not enough for the Dragons as the Midshipmen proved to be a formidable opponent, winning the match by a score of 7-0.
While the Dragons could not come away with a point in this one, they did not go down without a fight. The freshman combination of Daniel Hansen and Badr Ouabdelmoumen engaged in a very competitive match at No. 2 doubles before finally falling 8-6 and conceding the lone doubles team point.
"They played a tremendous doubles match despite a slow start, falling down 6-2 early," assistant coach Mehdi Rhazali said. "They initially had difficulty returning and had their own serves broken. We told them to start returning cross-court. They then managed to hold serve and increased their energy and communication."
In singles play, Navy won in straight sets across the board despite Drexel's efforts. Junior Jeganathan Srinivasan put forth a valiant effort despite a rough start in the No. 2 match. After being shut out 6-0 in the first set, Srinivasan loosened up and moved well, dropping the second set by a much closer score of 6-4. In the No. 1 singles match, Ouabdelmoumen started strong before his game became overly defensive, a style that does not play to his strengths. Ultimately, the freshman could not recover and lost 6-3, 6-1.
Meanwhile, the Drexel women's tennis team played host to the George Washington University Colonials Feb. 12 at the Drexel Armory. As expected, the two teams were very evenly matched, showcasing several very close contests. In the end, the Colonials came out on top, downing the Dragons 5-2.
The No. 2 doubles combination of sophomore Marcela Rosales and senior Elise Leizerovich started the day off with a bang, dismantling their opponent in an impressive 8-1 win. The Dragons' No. 3 doubles team then fell to the Colonials, leaving the No. 1 match to decide which team would receive the doubles point. Drexel senior Sonja Stosic and sophomore Zeynep Mafa jumped to an early lead and even forced a match point before the GW duo made a comeback and shifted the match's momentum in their favor. After 80 long minutes of play, Stosic and Mafa finally gave up their lead and lost 9-7.
Singles play also featured highly competitive matches, with three of them going to either a third set or super tiebreak, a 10-point tiebreaker played in place of a third set when the winning team has already been determined. Rosales continued her high level of play in a roller-coaster match at No. 3, winning the first and third sets with a second-set letdown in between. Her coaches liked the resilience and control she showed in her game.
"Marcela was very smart and disciplined in the first set, lost her way in the second, but calmed down and improved her shot selection in the third. We are very pleased with her effort," assistant coach Filip Kricka explained.
Sophomore Alexandra Bell followed up her teammate's strong showing with one of her own at No. 5. She split the first two sets with her opponent, forcing a super tiebreaker because George Washington had already won the competition with four team points. Bell played well in the tiebreaker, defeating her opposition 10-6 to win Drexel its second point of the day. Her coaches were once again impressed with their athletes' style of play.
"Alex recovered from a second-set loss and played smart tennis," Kricka said. "She played every point as if it were match point. She has made tremendous improvements since last year."
In order to improve on their performance from Feb. 12, each team returns to practice this week with a specific goal in mind. The men look to develop the serve and return aspects of their game while the women will focus on closing out matches and playing smart tennis. Both teams aim to rebound from their losses when they face Lehigh University Feb. 19 in Bethlehem, Pa.