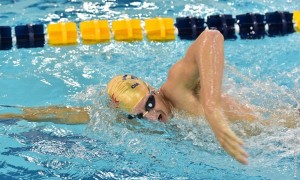 This week, both the men's and women's swimming/diving teams at Drexel University were winners, as they beat their respective opponents from Binghamton University at their meet on Nov. 7.
On the men's side, the Dragons roasted the Bearcats, finishing with a final team score of 145-98. They were successful from the bottom up, with great success from competitors in every single grade.
Freshman Dane Bell earned first in both of his freestyle races, the 500 and the 1000. His times were 4:48.98 and 9:52.16, respectively in his sweep. Other notable finishes came from sophomore J.T. Jumpkin, and seniors Kyle Lukens and Matthew Klotz. Likens took the win in the 100 fly with a time of 50.08, while Klotz won the 200 free.
Drexel was also successful in the relay category. Joel Berryman, Ralph Cannarozzi III, Sean Swartz and Lukens won the 200 medley. Another group of Dragons won the 200 free relay as well, with their time of 1:28.23 earning them first place.
On the women's side, the Dragons were just as successful—if not more. The women beat Binghamton with a score of 155-86, nearly doubling the points of their opponents.
Madison Kramer, a senior, had a performance so great it earned her the Colonial Athletic Association's diver of the week award. She earned a score of 261.83 in the 1m, and she also took first place in the 3m dive with a score of 264.68.
Similar to the men, the women's wins were spread out between Dragons with a variety of experience. Two freshmen, April Forsthoffer and Rebecca Churchill took first place wins.  Forsthoffer grabbed the win in the 4000 IM wat a time of 4:38.95, and Churchill grabbed a win in the 100 breaststroke race at a time of 1:09,84. Churchill's win was a close one, beating her Bearcat opponent by six-hundredths of a second.
Sophomore Miranda Rouse also grabbed two wins. As the Dragon who took on the three longest races in the meet, she had to pace herself—but as it turned out, her efforts were enough to pull out wins in two of those three races. Her wins came in the 500 and 1000 freestyles, in which she earned times of 5:12.76 and 10:40.91.
Rouse's efforts were enough to earn her a place as one of Drexel's Athletics Players of the Week.
All in all, it's safe to say that Dragons sure can swim, while it's uncertain if Bearcats can.
The Dragon swimming/diving teams will have this weekend off before they take on their next meet, the Patriot Invitational. The Invitational, hosted by the Patriots of George Mason University, will be held in Fairfax, Virginia Nov. 19 until Nov. 21.