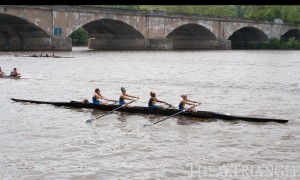 Domination was the name of the game for the Drexel crew teams April 21 at the Kerr Cup Regatta. The men's and women's varsity eight took home the Dr. Thomas Kerr and Lela Kerr cups for the second and third consecutive years, respectively.
In addition, the men's side won the freshman pair and eight events. Not to be outdone, the women's second varsity eight, freshman four and novice eight finished in first place. In total, both sides won their cups by significant margins. The 84 points obtained by the women's side were 39 more than second-place Fordham University, while the 62 points collected by the men were 36 more than their nearest competitors from The Pennsylvania State University.
The men's varsity eight beat out La Salle University by nearly nine seconds in their event. The team of seniors Randall Lee and Will Masters; juniors Kurt Linton, Paul Wisniowski, Aleksandar Radovic and Lorenzo Albala; and sophomores Sebastian Ryan, Vanja Busic and Michael Faust won with a time of 6:27.1.
While the second varsity eight finished second with a time of 6:35.5, they rebounded with a victory in the freshman eight. The team of Dean Hill, Brian McCabe, Hartman Byers, Cameron Staines, James Byrne, Casimir Czworkowski, Grigorios Papadourakis and Christian Ladd beat out second-place Penn State by nearly 20 seconds. The men's pair won by 15 seconds in their final.
On the other side, the women's side did its fair share of winning as well. Drexel won four out of the six events that day. The most noteworthy result came in the women's varsity eight final. Simply put, it was a dominating performance by the Dragons. They beat La Salle by a full 23 seconds, as the squad of seniors Elizabeth Bratton, Emily Cole, Julia Jackson and Asiya Mahmud; juniors Alexa Antonioli and Mollie Cusack; sophomore Elizabeth Daugherty and freshman Sierra Baca posted a time of 7:28.7.
Next up for Drexel Crew is the Philadelphia-centric Bergen Cup Regatta April 28, where the men will compete for the Bergen Cup and the women for the Kelly Cup. Among Drexel's competition will be La Salle, Temple University, St. Joseph's University and Philadelphia University. This regatta is the final event for Drexel before the Colonial Athletic Association championships April 29 and the Dad Vail Regatta May 11-12.