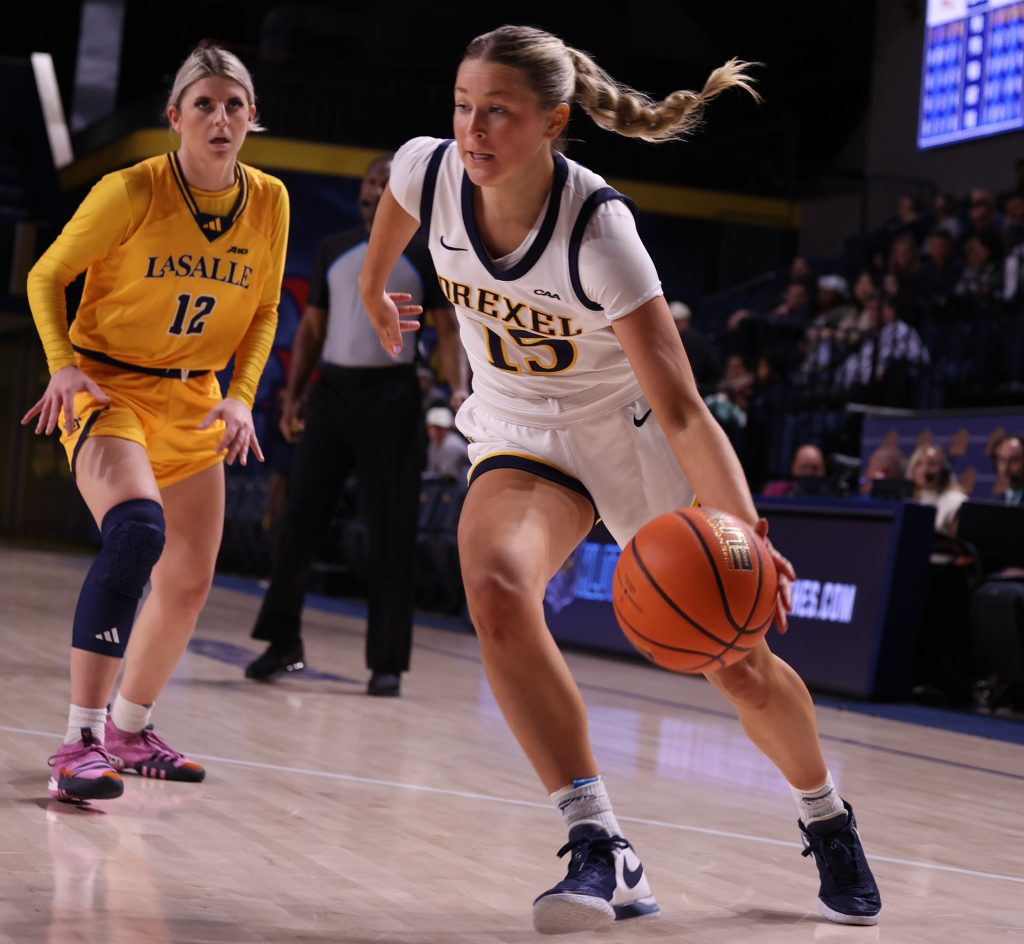 The Dragons were dominant in their 71-46 win over intercity rival La Salle. Laine McGurk scored a game high 20 points, going 9-12 from the field and 2-4 from three in eighteen minutes of action. The freshman guard from West Chester, Pennsylvania played excellently in just her second collegiate game.
Drexel was able to control the game through their stifling defense which prevented many of La Salle's chances inside the paint from scoring. Drexel's heavy press also prevented any opportunity for La Salle to score from three as the Explorers struggled to put points on the board. For eight minutes, spanning from three minutes left in the first quarter to five minutes left in the second quarter, Drexel kept La Salle from scoring at all.
Rebounding played a huge role in their defense, where they outer-bounded La Salle 48-26. Drexel's offensive rebounding also allowed them to extend their possession on the ball and gave them more opportunities to score. Drexel had fourteen offensive rebounds throughout the game led by senior forward Chloe Hodges who had six offensive rebounds for the Dragons. Hodges tacked on 14 points on 6-9 shooting.
When they weren't playing defense Drexel were always one step ahead of La Salle on offense. The Dragons shot 48% from the field and 39% from three compared to La Salle's 32% and 10% respectively. 
Whether it be fast breaks, going into the paint or shooting from three, Drexel was able to put points on the board. Guard Brooke Mullin earned most of her five assists from playing the ball forward to one of her teammates.
Other players like Hodges, Grace O'Neill and Momo LaClair were able to connect with their teammates by passing through open lanes or kicking out to an open teammate for an easy three points. Laine McGurk, Erin Sweeney and Amaris Baker combined for five of the Dragons' seven three-pointers. Transfer student guard from Harcum Amaris Baker had 19 points on 8-14 shooting in 26 minutes on the court.
The Dragons were able to maintain a lead over La Salle and even lead by as much as 28 at one point in the match. La Salle only lead early on in the first quarter 5-4 before Drexel took over and lead throughout the rest of the match.
Triple zeros hit in the fourth as Drexel cruised to victory over the Explorers, 71-46 being the final score. The Dragons improved to 2-1 while La Salle fell to 2-2. Drexel's next match sees them welcoming another intercity rival in the Saint Joseph's University Hawks. The Hawks are currently 3-0 on the season and look to be formidable opponents in the coming days.