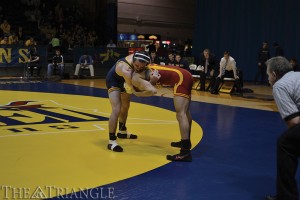 Which Thanksgiving dinner staple is your favorite? Are you more of a main course or a dessert kind of person? Either way, it doesn't matter, because Thanksgiving is a time for giving thanks, spending time with family, and reveling in gluttony.

Nobody said that the last part was made for wrestlers, though. When the Drexel wrestling team traveled to Madison Square Garden for the Grapple at the Garden Dec. 1 to cap off the holiday, a couple of the wrestlers weighed in overweight. The Dragons fell to Princeton University in a dual that they believe they should have won, but they redeemed themselves with a win over George Mason University.

The consequences for the team, in this case, were not all bad. With some usual starters out,  players who don't usually have the opportunity to wrestle got their chance. Freshman Tanner Shoap was one of them.

"Tanner was actually going up to an open tournament in Lock Haven," head coach Matt Azevedo said. "We called him up the night before and told him we needed him in New York because we needed him to wrestle."

Shoap stepped in nicely at 125 pounds for freshman Kevin Devoy (who was one of the mat men who missed weight), winning both of his matches.

Although freshman David Pearce was able to make his weight at 133 pounds, something just doesn't sit right with Azevedo.

"I think Devoy and Pearce need to move up," Azevedo said. "They're just too big. They can't make the weight class and perform."

Ideally, with Devoy moving up to 133 pounds, Shoap would stay in the 125-pound spot. Then, Pearce's move from 133 to 141 would put him in the same class as another freshman, Matt Cimato.

Cimato has been able to make weight at 141, but Azevedo doesn't feel like he's getting the freshman's best effort. He thinks that a bump up to 149 may be in order so that Cimato can wrestle at full strength.

"Cimato is kind of showing that he can't make weight and perform at the highest level," Azevedo said. "He's at the right weight class; he just needs to do it right."

Azevedo continued, "We just hope that this is going to make a difference and give some guys some energy, some excitement, and be stronger. They're just so weak from cutting weight and being so heavy so close to the weigh-in."

With the first three weight classes almost certainly moving up, Cimato moves to a clash with Noel Blanco for the starting spot at 149 pounds. Blanco was able to pick up two wins at 149. Since dropping his first three matches at the Eastern Michigan Open, Blanco has won three straight for the Dragons and has been strong lately.

The two could have a wrestle-off to determine who gets the starting spot, but that would leave the team in a bind because decisions are better made in competition than in practice. Because ultimately, the matches are what really matter.

Blanco could also potentially move up to 157 pounds, but Austin Sommer — who picked up two more victories over the weekend — has a firm grasp on the starting job there.

The situation is not ideal, but it is part of the ups and downs of coaching a young team. Discipline is a key to winning, especially when the near-weekly challenge of making weight is thrown into the mix. It's a message that Azevedo can preach over and over again, but if his guys don't listen, then he is forced to make changes.

"[The young guys] don't quite grasp the importance of it," Azevedo said. "They know it's important and they know they have to do it right, but they're just somewhat irresponsible. That's how I look at it. They're living in the now. They're not looking to the future."

Azevedo continued, "I want them to be disciplined and make these weight classes and compete well because I know they can. But if they're not going to do it, I can't just sit here and say, 'Next time you're going to do it.' Why keep going down this road if I think they can be just as successful at the weight class above?"

Still, there are positives. Through it all, Brandon Palik remains the rock on the team. The senior won his two matches at the Garden, moving to a dominating 7-2 individual record on the season.

Also, there are the positives that come out of all the movement and intrasquad competition. When guys are always feeling the pressure of having a teammate sneak up and take a spot in the starting rotation, it keeps everyone working harder and more focused.

The Dragons will be better when the dust settles. They're young and they're talented, and they will see where they stand after the Indiana Duals Dec. 7-8.