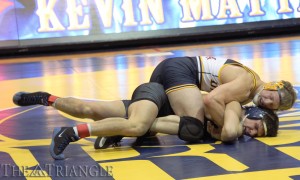 With friends, family and groups of younger wrestlers looking on, the Drexel wrestling team notched its first home win of the season Feb. 1 with a convincing 24-14 decision over the Duke University Blue Devils at the Daskalakis Athletic Center.
The home win came in dominant fashion in front of an avid group of followers, giving the DAC crowd a glimpse into what they can expect over the coming years under head coach Matt Azevedo.
"It was long overdue in a lot of ways," Azevedo explained after the match. "We lost by one point and then two points previously, and I thought this match was going to go along the same route. I thought it was going to be another one, two-point match, but some things went our way that allowed us to run away with it."
Drexel started off with a quick 6-0 advantage over Duke after freshman Tanner Shoap won on forfeit for a second straight match. Another one of Azevedo's talented freshmen, Kevin Devoy Jr., followed up with a dominant decision of his own at 133 pounds.
At 141 pounds, freshman David Pearce took home six points for the Dragons in the scariest of ways. Late in the match, Pearce's opponent, Xaviel Ramos, who was standing up, had Pearce on upside down hanging off of his back. In a desperate attempt to score points, Ramos fell back, slamming Pearce to the mat and landing on top of him. Ramos was disqualified for flagrant misconduct and the Dragons took a commanding 15-0 lead in the match.
After Matt Cimato dropped a 3-0 decision at 149 pounds, one of Drexel's senior leaders, Austin Sommer, took to the mat. Sommer was going up against a top-30 wrestler in Immanuel Kerr-Brown. The two 157-pounders were evenly matched and the score was tied 7-7 coming down to the end of the third period.
Desperate to avoid overtime, the senior, head up with his opponent and time ticking down, scored a match-winning takedown for two points. His late win got his coaches and teammates up off of the bench and the crowd on their feet. It put the Dragons in a position where they were not about to look back.
"We worked all week on just how to beat this one kid since this was the only match this week," Sommer said. "I went out there really confident knowing I could probably win and I did that. It feels good."
"It was a huge win for Austin," Azevedo said. "He has probably wrestled the toughest schedule out of anyone on our team. It seems like every team we dual, one of their best kids is at 157 pounds. He has gone through the gauntlet, wrestled the tough schedule, and he was due for a big win like that."
Sommer is admittedly not a vocal leader. He lets his wrestling show out on the mat and hopes the younger guys follow his lead. His ability to score late in the match to win, instead of letting the match go into overtime, is something that he hopes his teammates can learn from.
"I'm not much of a talker, so I try to lead by example whenever I can," Sommer explained. "Tonight was a perfect example of how I do that. I try to get the team motivated any way I can, win or lose, just go out there and fight for seven minutes as hard as I can and give it everything I have."
After Sommer's win and a loss at 165 pounds, Kevin Matyas secured the win. Wrestling at 174 pounds, Matyas went out, put what his coaches have been telling him to work and pinned Duke's Andrew DeHart. The six-point pin gave the Dragons an insurmountable 24 points.
"We know that Kevin is strong from that position, the top position," Azevedo said of Matyas. "When he gets his opportunities, he usually locks it down. We thought we could get a win there, and it wasn't going our way for a while. He stayed patient, got to where he knows he's strong, and he made the most of it."
With the match in hand, the Dragons went on to drop their final three matches. It did not matter, though, as Drexel came away with the 24-14 win at home. In those three matches was perhaps the most surprising result of the night: Brandon Palik lost.
Palik went up against Duke's Connor Hartmann, who he beat on a 3-2 decision at the Southern Scuffle earlier in the season. However, it was Hartmann who got the best of Palik this time, winning a 7-4 decision in overtime. It was a surprise to everyone, but Azevedo wasn't worried about his nationally ranked senior.
"It's good for Brandon," Azevedo said, confident that Palik would learn from the loss. "He beat that kid earlier in the year in a one-point match, so we knew it was going to be a tough match. He's been off for a while. He has had two matches, but he pinned both kids in the first period so he hasn't been tested. His conditioning isn't quite back where it will be, but it was good for him to be tested. I'd rather take that loss now, improve, and be ready for when it really counts."
The team win was big for the Dragons, as they improve to 5-13 on the year. From here on out, it's strictly Eastern Intercollegiate Wrestling Association matches for the Drexel mat men. They return to the mat with home matches against Rider University Feb. 7 at 7 p.m. and Franklin & Marshall College Feb. 8 at 7 p.m.