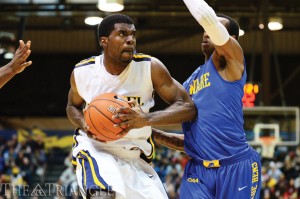 Frantz Massenat had never really, truly lived away from home.
When he spent four years on Drexel's campus, from 2010 to 2014, he was always a car ride from his home town of Trenton, New Jersey. Just across the Delaware River, salvation and comfort awaited.
So when it came time to travel to Europe and embark on the opening leg of his professional career, Massenat had to adjust.
Sitting in an empty row of bleachers July 17, dripping with sweat after a disappointing first-round loss in The Basketball Tournament, Massenat talked about what the transition was like with perspective.
He sported a longer, scraggly beard and plenty of new muscle from his first year abroad.
"I had to get adjusted to everything," he said.
It was the first time Massenat and his trademark smile played a meaningful basketball game in Philadelphia since February 26, 2014, the final home game of his Drexel career.
After he graduated in June 2014, Massenat received an invitation to participate in the Washington Wizards' Summer League team, but a guaranteed contract from German club Middeldeutscher Basketball Club was too good to turn down.
So Massenat signed a contract, boarded a plane and began the newest chapter of his life in a country he'd never experienced.
In his first season, Massenat averaged 10.1 points, 3.9 assists and 1.9 rebounds per game. He tied for the second-highest scorer on his team.
But in his first months with Middeldeutscher, Massenat said he experienced the precociously nervous period that most young ball players go through when they join a new team.
"It was like a real rookie season for me," Massenat admitted. "In the beginning, I was just trying to learn the game."
He said the game as a professional struck him as more cerebral, especially as a point guard. He had to think about the game differently, both on and off the court.
Playing basketball for a living, Massenat said, is an entirely different experience than college ball.
He had to adjust to two practices per day. The team even held practices on the players' days off.
There was no time to let up. Basketball was everything.
"Winning or losing, you've got to keep the same mindset," Massenat explained. "You've got to push every time. It's a job. There were four guys on my team that got sent home. You have to be able to come all the time, because at the end of the day, you're playing for your job.
"You're going into the game thinking, 'Oh, I've got to play good. If not, I'm not earning my money.'"
And then there's learning to balance a new life off the court.
He received an overwhelming amount of love from the fans of Middeldeutscher. Any time he would walk around the city of Weissenfels, where the team is located, fans would ask to take pictures with Massenat.
Massenat is the only player from Middeldeutscher returning to the team next season.


His face is emblazoned on the landing page of the team's website. A fan page cropped up on Twitter in the middle of May, and it's gained over 100 followers in the past two months.
He is being marketed as the face of the franchise, and Middeldeutscher's fans have responded.
"It's a whole different type of basketball," Massenat said, laughing. "They bring drums to the games. They see you out, they'll ask for pictures, autographs, all that stuff. I liked it."
While he endeared himself to a whole new fanbase, however, Massenat had to deal with being thousands of miles away from the only place he had ever called home.
His parents. His best friends. His girlfriend. All of it was across the ocean.
"You're six hours ahead, you're living on your own, you're away from everybody," Massenat said. "I missed the people here so much."
He would often stay up late to watch his former Drexel teammates play, pulling hard for Damion Lee who is now at Louisville University. He kept in touch with Chris Fouch and Dartaye Ruffin, who were both playing professional ball abroad as well.
When he returned, he tried to explain what the year was like to his friends, but it's tough. They ask if he had time to vacation and explore Europe.
"You're like, 'Um, no.' I practice during the week and I play on the weekends," Massenat said, shaking his head. "It's a job."
It was yet another adjustment Massenat had to make. But he figured it out, and ended the season on a high note, averaging 16.6 points and 5.4 assists per game in the final month of his rookie campaign.
"I kind of got thrown in the fire early, but that's fine," he said, smiling once again.
Massenat thinks he developed a lot as a player in his first year, from start to finish. He said his coach was in his ear all season long, keeping him confident.
"I guess he saw potential in me," Massenat said.
Now he's settled in to his new home, and ready to head back in mid-August. Massenat signed on for another year in June, and he said he's excited to return.
"I like the country, and I like the basketball," he said. "There's a lot of guys that were in the NBA there, there's a lot of guys. It's just really good, competitive basketball."