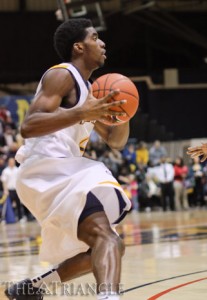 It would be tough for Frantz Massenat to have a better rookie season than he did in 2010-11. But after the season he had in his first year on the Drexel basketball team, his future looks bright, and he looks destined for even better seasons.
As a freshman for the Dragons, Massenat did more than contribute in every game. He started each game and did so at the most critical position: the point.
The guard from Ewing, N.J. had a rookie campaign that featured all kinds of success and was filled with records, recognitions and achievements. Among them were being named to the Colonial Athletic Association's All-Rookie team and tying a Drexel rookie record with 11 assists in one game. Pick any angle or interpretation of success, and Massenat meets the criteria.
To meet the criteria, there were a number of skills and factors that helped Massenat succeed. It helped that he had the chance to play every day, but why was he given that opportunity? Already knowing the game and coming in with a history of being a leader was a good start to provide him with the opportunity.
In high school, Massenat was awarded the Jack Cryan Award, given to a Trenton-area basketball player who demonstrates leadership and sportsmanship. When you consider his intelligence, as he was also an honor student for four years, you have a solid foundation for a point guard if you were to build your own.
"He is a heady player who understands the game," associate coach Mike Connors explained. "Frantz is a very intelligent player both on and off the court. He has a good basketball IQ."
Moving on to Massenat's physical strengths and attributes, one immediately notices his size. At 6 feet, 4 inches, Massenat towers for a collegiate point guard. He fills out his body with strength, only adding to the imposing figure at the point that it creates for teams trying to defend him.
He is also tough to defend because of his strong ball-handling ability. In addition to being a very good distributor of the ball last year, averaging a CAA freshman-leading 3.3 assists per game, Massenat does not distribute it to the opposing team very much. He finished ninth in the entire conference with a 1.76 assist-to-turnover ratio. This, again, was in his freshman season.
When not providing dimes to his teammates on the floor, Massenat proved he could hit a shot. From the floor, the guard shot .418 on the season — impressive no matter what year you are.
Rounding out the overview of Massenat's game is his defense. As a freshman, Massenat finished third among Dragons with 21 assists playing in the backcourt. He finished sixth with 51 defensive boards.
For as talented as the guard is physically, as well as his tremendous backcourt size, it is his leadership that the team goes back to when they look at their starting point guard.
"He has provided us with leadership and direction," Connors said.
Not bad for a freshman. Leadership and especially direction are exactly what you want out of your point guard, being the one who brings the ball up and runs the plays. With his many assists and few turnovers, the direction he has provided is apparent.
With all the tools and talent there, physically and mentally, Massenat appears poised to make even more of a contribution and jump in the Dragons' lineup. It is a team that is looking for a big season. Drexel is expected to finish first in the CAA.
"We expect him to continue to get better every game," Connors explained. "He was an All-Rookie player last year, and we would like to see him make the jump to All-Conference this year."
That would be an incredible jump for a player who made the jump to the college game last year. It also is a jump that is needed for a team looking to make a jump of its own — a jump to No. 1 in the conference. Massenat will be the one needed to provide them with direction for that jump, as the ball is in the point guard's hands.