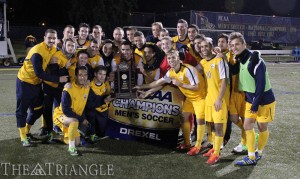 Jameson Detweiler doesn't usually go to the net. But in a scoreless, winner-take-all match against The College of William & Mary in the Colonial Athletic Association championship game, the redshirt freshman defender took a chance and followed team captain Tal Bublil into scoring range.
In the 26th minute of the match, junior midfielder Michele Pataia fed an ideal corner kick into the box. After a hectic scrum, Detweiler was the one who poked the ball inside the far-left post, past Tribe goalkeeper Mac Phillips, who lunged to his right.
"Going into the box, Tal told me to run right behind him. As he was running I just saw the ball go directly over his head and just kind of hit my leg and fell right to my feet," Detweiler said. "I saw an open corner and I just passed it into [the net]. That's all I could do, basically."
It would be the only goal in the 90 minutes of play, and the Drexel men's soccer team won its first-ever CAA Tournament title with a 1-0 victory over No. 21 William & Mary. In the title game, freshman goalkeeper Tyler Afflerbach made four saves to record his sixth clean sheet in 17 starts this season. Afflerbach, senior midfielder Ken Tribbett and sophomore forward Joaquin del Rosario were named to the All-Championships team.
Tal Bublil was named the CAA Championships Most Outstanding Performer by anchoring the team as it shut out the Tribe, a team that had scored six goals in a 6-3 semifinal win against the University of North Carolina Wilmington two days before the championship.
"We've been dreaming about this moment for the past four years — it's unbelievable," the senior defender said as he cradled two trophies in his arms during the postgame celebration. "The boys played amazingly, we defended as 10 plus the goalie, and we attacked as a team. It was a group effort, just like it was all season."
The win also clinched an automatic NCAA College Cup berth for the Dragons, which was a relief for two main reasons. First of all, with a poor out-of-conference record of 4-6-1, Drexel was not going to receive an at-large bid to the tournament. Also, it will cut down on the suspense. Last season, the Dragons had to wait out a tense selection show where they were the final team selected in the 48-school bracket.
"It takes a huge weight off our shoulders. Last year, we were the last team called in, so it's just excellent to know that we're getting in there," Detweiler said following the championship win.
The athletic department arranged a team gathering Nov. 18 at noon in the Recreation Center lobby outside of Landmark Americana to watch the NCAA Selection Show. Nearly 100 Drexel students, coaches and staff members came to support the team as the players waited to see which team they would be playing in the first round. As the third quadrant of the bracket was revealed, Drexel's name appeared next to former CAA foe Old Dominion University.
Now in Conference USA, the No. 16 Monarchs finished 10-5-1 overall, including 7-2-0 in conference play. The match will be played Nov. 21 at 6 p.m. in Norfolk, Va. Old Dominion holds the No. 16 rating percentage index in the country, but Tribbett is very confident in his team, no matter who lines up on the other side of the field.
"I like [the matchup]," the Tribbett said. "Honestly I think we can beat anybody, so anyone who wants to face us, tough luck for them."
Drexel already has two wins against ranked opponents this season — both against William & Mary — and suffered a 1-0 loss at the then-No. 12 University of Maryland Oct. 22. Following the CAA championship win, Detweiler expressed his thoughts on what kind of team the Dragons have, and their potential chances of advancing in the NCAA College Cup.
"[We're] just a team that's not going to quit," he said. "We had a rough season to begin with, and we righted it a little bit. And now, obviously, we fixed it enough to win, so we're going to keep going."
Even though the Monarchs' program might be somewhat recognizable to the Dragons, Old Dominion is a much different team now than when Drexel beat the soccer Monarchs 4-1 last season at Vidas Field Sept. 22. Following the selection show, head coach Doug Hess commented as much as he could about his team's upcoming opponent.
"We're pretty familiar with them," he explained, "[but] they did graduate a fair amount of guys from last year, and then they have some steady players that returned from last year, so we will see."
Contrary to last year's club, which allowed only 15 goals all season, this season's Old Dominion team has allowed 23 total goals with redshirt senior Sean Stowe between the pipes. But on the offensive end, one constant for the Monarchs has been the play of forward Tim Hopkinson. The senior from Nottingham, England, will surely be a marked man for the Dragons, as he led the team with 10 goals last season and has scored another 10 goals this year.
The winner of this matchup will go on to face sixth-seeded Georgetown University in Washington, D.C., Nov. 24 at 1 p.m. The Hoyas are one of the nation's best teams, having outscored their opponents this season 36-9 en route to a 13-4-2 overall mark, including a 6-2-1 record in the Big East Conference. Right now, though, Hess' crew must focus on beating Old Dominion to grab the program's first-ever NCAA Tournament win.