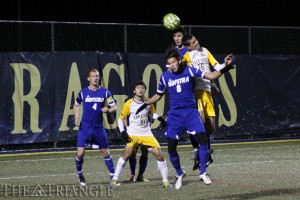 Never have expectations been higher for the Drexel men's soccer team. After eight seniors graduated from a squad that won the regular season Colonial Athletic Association title, the Dragons will defend that title in every one of their seven conference matches this fall. After reaching the NCAA Tournament for the first time in 40 years — losing to Brown University in the first round — the team is hungry to return and do some damage on the national stage.
Case in point: the 2013 recruiting class for head coach Doug Hess was ever-so-crucial.
After graduating zero seniors following the 2011 season, the recruiting process was back to business as usual this year for the coaching staff, with a number of open roster spots. Of those eight seniors that graduated this year, three were full-time starters; defender John Boswell, goalkeeper Tim Washam and midfielder Brandon Zeller. As Hess said, all things considered, a solid foundation still remains.
"We lost guys in our senior class, but we also have guys that are ready to fill spots," Hess pointed out. "I feel like we have a very good core of returning players right now. We add a competitive recruiting class, and hopefully you just keep going from there."
The coach, who will be entering his fourth year at the helm of the program, responded with a strong incoming class of seven. They include keepers Tyler Afflerbach and Bardia Asefina; midfielders Adam Arana, Felipe Fagundes, Colin McGlynn and Connor Ryan; and defender Mark Matula.
As Hess mentioned repeatedly, all seven of these players come from a winning background. Whether it is Fagundes — the transfer who helped the University of Massachusetts Lowell to the Round of 8 in the NCAA Division II Tournament — or Afflerbach, — who has a Pennsylvania State Championship under his belt — these guys are proven winners, and that is unlikely to change at Drexel.
"I look at an incoming class of guys that all come from kind of winning traditions and winning programs; that's what they're coming into," Hess affirmed. "They're not coming into a team that lost the year before; they're coming into a team that won the year before.
"It's a team expectation now at this point. … The expectation is… we won the league [once]; can we win the league again?"
Perhaps the biggest blow to the team possibly repeating as champions was losing Washam. The Warminster, Pa., native started the final 18 matches for Drexel and played in every minute of the season other than the first contest, posting eight shutouts and a .835 save percentage in the process.
In response, Hess went out and secured his two keepers; Afflerbach from Harleysville, Pa., and Asefina from Raleigh, N.C. Even though they will both be freshmen this fall, the starting job is technically up for grabs.
"They don't need to play right away but they're going to be in a mind of competing for it right away," Hess noted. "Everybody's competing for the starting position; every year is a new year. [Keeper] is a position that needs competition all the time and we think it will be the competitive spot."
Senior Pentti Pussinen, who started 13 matches as a freshman and played every minute of every game as a sophomore before bowing to Washam and serving as the backup last season, will be the favorite to win the job over the two newcomers. The Finnish keeper is currently rehabilitating an anterior cruciate ligament tear he suffered in December and five months later, he is back on his feet and running.
Also, look forward to former teammates running on the same field together once again. Fagundes, a Brazilian-born midfielder who is transferring to Drexel after two years at UMass Lowell, and Dragons junior forward Fabio Machado played on the same New England Revolution Academy team a few years ago. And it was no coincidence that Fagundes exercised his transfer rights to University City when he was released from his scholarship.
"Felipe reached out to us after his release, but, I mean, they know each other," Hess admitted. "He's a kid of character and he's a guy that aspires to play at the highest level he can. He's a nice passer and he's a lefty; we don't have a lot of lefties on our team."
Another player that approached Hess in the recruiting process was Matula, a defender playing for Seattle Sounders FC Academy. Although the Drexel back line is a bit crowded at this point, the coach thinks the Sammamish, Wash., native is a seemingly perfect fit for the program.
"He's just a real steady player; simple pass, simple choices, doesn't complicate the game," Hess lauded. "[If] you've watched us play, that's the way we play. I think Mark's [going to] be good in that realm."
In the same trip to see Matula, Hess also took at look at Arana, a Southern California midfielder who the coaching staff had an eye on while playing for Chivas USA Academy. Arana has started all 26 games this season and is a player that is built to play in Hess' system.
"The West Coast, in all honesty, is probably the best place in the country for youth soccer," the coach said. "I think Adam's [going to] be a very good college soccer player over his four years. He's a kid that understands the game and understands all the positions."
The final two players in the 2013 recruiting class are local midfielders; McGlynn from Jamison, Pa., and Ryan from Horsham, Pa. Both add depth to the Dragons roster that currently has returning players like senior Jared Girard, sophomore John Grosh, senior Nathan Page and junior Michele Pataia at midfield.
Not to mention, Hess also gets senior Phillip Hagerty back in the mix. The senior from Dayton, Ohio, is back in action after missing all of last season and redshirting following ankle surgery. So far this spring, he has been a welcome addition to a deep and talented roster, which now includes a potential breakout star, freshman defender Jameson Detwiler.
"He's one of the few left-footed guys we have on our team, so we slid him in left back for Boswell, who played there last year," Hess said of Detwiler, who redshirted last season after playing in only one game. "Jameson was fantastic through the spring, really good and just [kind of] gaining awareness of the position and growing and so forth."
The coach also mentioned that Detwiler was the only player on the roster to play every minute of every game during the spring practice season, including both sides of a doubleheader in April. Although Drexel produced a draw in the majority of its exhibition games, Hess was very satisfied with his team's performance.
"We had a very competitive spring," Hess recalled. "A lot of good soccer played with building kind of what we want to do and trying to press teams. [We try] to have the ball as much as we can and [try] to take the game to [our opponent]."
With approximately three months until the Dragons first regular season game of the fall, many players are currently at home or on co-op. This includes senior Ken Tribbett, who is currently serving as a jack-of-all-trades for the Ocean City Nor'easters, a United Soccer Leagues Premier Development League team in Southern New Jersey.
Tribbett works as an intern for the team by day and scores big goals by night, including a game-winning goal in the Nor'easters 1-0 win over the Pittsburgh Riverhounds May 22. With the win, the team will advance to play the Philadelphia Union in the third round of the Open Cup May 28 at PPL Park.
Not bad for an offseason gig, eh? The midfielder from Centennial, Colo., surely knows how to take care of business. There is no doubt that Tribbett and the rest of the remaining Dragons from the 2012 history-making squad will accept their roles as leaders and mentors to all of the incoming players. With the 25-man roster set, they are about ready to begin the encore of one of the greatest seasons in Drexel men's soccer history.