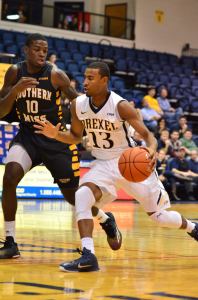 Shot after shot fell. Swish, swish, swish. Off the backboard, swish. Off the rim, swish. At some points, it seemed as if they couldn't miss if they tried.
The Drexel men's basketball team topped the University of North Carolina Wilmington Seahawks on Jan. 31 with the team's most impressive offensive performance of the season, knocking down 60.4 percent of its shots en route to an 85-76 win. It was the best shooting night of the season for the Dragons.
The win marked Drexel's third in a row, but the win over the Seahawks was by far the most impressive of the trio.
In the games leading up to the afternoon showdown with a red-hot UNCW team, Drexel head coach James "Bruiser" Flint consistently chastised his players for not being ready to take shots. He didn't think his role players were ready, or eager, to make plays. He was also disappointed in their low field goal percentage.
Against UNCW, all of those things changed. Junior guard Damion Lee continued to produce at a high level, scoring 32 points on 10-of-14 shooting, but that was nothing new for the Dragons. The key to the win over the Seahawks was Lee's teammates scoring 53 points on 19-of-34 shooting, the best outing for the star shooting guard's supporting cast all season.
Freshman guard Sammy Mojica scored 17 points on six-of-eight shooting, sophomore forward Rodney Williams added 13 points of his own, and junior guard Tavon Allen poured in 13 as well.
After the game, Flint admitted he didn't even think his team was capable of shooting 60.4 percent in a game this year.
"Nope," he said with a hearty laugh. "But every dog has his day."
Flint said that when the Dragons took on the Seahawks back on Jan. 10, he was disappointed with the way his team executed on the offensive end. He thought his team should have won that game, but his players weren't able to capitalize on successfully breaking UNCW head coach Kevin Keatts's patented press defense.
Flint noticed that, in the Seahawks' most recent games, they were using that press defense even more. So he emphasized beating it, and then scoring after beating the press, in the practices leading up to this go-around with Keatts's squad.
"We got a lot of baskets in transition, against their press, so that helped out a lot," Flint said of his team's effort in the rematch. "They pressed us a little bit, we got up, we made some baskets in transition.
"They didn't really press us that much when we were down [at UNCW] the first time."
Flint admitted that his teams don't typically play up-tempo basketball, opting instead for a more plodding, defensive-minded approach. But he decided before the game that if Keatts was going to give his team more chances by pressing, his team could capitalize if they could get the mid-court line.
"We usually don't play that way, but my thing was, they give you those opportunities," Flint explained. "That was my thing. If they're going to give you those two-on-ones, you've got to convert them."
And when they successfully broke the Seahawks' press, the Dragons converted, turning those chances into two huge scoring runs that essentially put the game out of reach.
The first run came at the end of the first half, when the Dragons out-scored the Seahawks 18-4 over the final five and a half minutes. Drexel hit eight straight field goals heading into the break, with 10 of those 18 points coming from either Lee or Mojica.
In the second half, after watching UNCW creep back within reach, the Dragons went on a 20-6 run that started at the 13:43 mark and turned a 52-48 advantage into a 70-54 lead with 6:19 remaining. During that run, 12 of the Dragons' 20 points came from Lee or Mojica.
It was the kind of night Flint had been waiting months for, when his team would learn from its past mistakes and step up when plays needed to be made. As the night wore on, it became clear that his team was intent on making a statement on the offensive end. It's not just Lee who can score. Against UNCW, it was the entire team, especially the freshman Mojica, who Flint has praised in recent games.
"Sammy's been really good," Flint said. "He's been a big difference in the game, not just from scoring points but unbelievable hustle plays. We always need somebody to score other than [Lee]."
Against the Seahawks, that was Mojica — and the rest of the team.