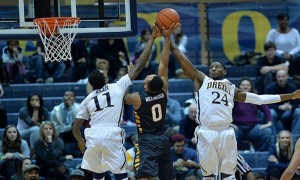 When the calendar turns to November each year, leaves fall, temperatures drop and the chill of another gray malaise arrives swiftly and surely, for we at Drexel University live in the Northeast and have willingly doomed ourselves to three or four months of jowl-shaking cold.
So too arrives Drexel basketball, a similar yearly ritual which has in recent years brought with it a sensation of falling, head-long, into an abyss of turnovers and close losses until the weather warms and we shake the hangover of another wasted season.
This year, while tremendously shaky for now, could be different. Maybe. Most everything rests on question marks without concrete answers. Whether Kazembe Abif, sidelined for nearly two years, will recapture the fire he played with in December of 2013; whether some teetering cocktail of Tavon Allen and Ahmad Fields, with a splash of young guard play, will be enough to fill the hole left by the best pure scorer Drexel has seen this millennium; whether these 14 men will avoid wet spots and awkward landings and stray arm holes in jerseys and actually remain healthy for a full year.
The Dragons were selected to finish eighth in the Colonial Athletic Association by a panel of coaches and bespectacled wizards lounging in Richmond, Virginia, prognosticating one of the most obscure conferences in all of college basketball.
That this is the lowest Drexel has been placed by the grand CAA electorate since the fall of 2008 says one of two things. Either this team is destined to continue its spiral to the bottom of the Colonial, facing woebegone teams like Elon University and the College of Charleston in a breakneck sprint to obscurity, or it will flourish in the absence of headache-inducing spotlight and finish in the top half of the conference. There is no in-between.
You see, there was once hope surrounding this program. For those students who have matriculated since the fall of 2013, the Daskalakis Athletic Center is only a personal gym; the year before, and far back before then, Drexel was a rising power in the mid-major basketball world, a three-pointer or a correctly-wooed voter away from dancing in March.
Since the brutal decision by the National Collegiate Athletic Association selection committee to put Iona College in the field of 66 instead of Drexel, the male tenants of the DAC have moped along to a 40-51 record, the worst three-year stretch of Bruiser Flint's time in University City.
Now, with a core group of players in their sophomore and junior seasons, and without names like Damion Lee and Frantz Massenat to foolishly raise hopes miles beyond where they reasonably belong, Flint has a chance to prove he still belongs on campus.
He has a team with potential. He has a team with a future.
With a seasoned front court and a young, athletic backcourt, there are no excuses in a conference with just one super power. Hofstra University will dominate; that much is inevitable. But the rest of the Colonial lies at the feet of the hungry, waiting, meek. Gone are Marcus Thornton, Scott Eatherton and Devon Saddler. The most dangerous face of the future disappeared when Elon's Elijah Bryant fled to greener pastures at Brigham Young University.
When the Dragons open their season at St. Joseph's University Nov. 13, they will face a Philadelphia program that has seen recent success, and is primed for more. DeAndre Bembry is to St. Joseph's what Damion Lee would have been to this year's Drexel outfit: a reason for those outside of campus to stop and gawk at a television tuned to ESPNU; a reason for NBA scouts to make the journey to gymnasiums one-tenth the size of their franchise's arenas. A reason to be excited. It will be a sobering trip to Hagan Arena, a locale with more fans and more energy and more potential than the DAC will likely see all year long, save when Hofstra makes its trip to Philadelphia after the calendar turns to a new year.
But in Friday's season opener, Drexel also has an opportunity. The team has a chance to make a sound, however muffled it will be on college basketball's opening night, and announce to its student body and to the Colonial that the Dragons who lost to a Division II school are gone, and they are forgotten.
So much rides on this season that it's hard to undersell the importance of Flint's team starting it off with a win on Friday. Flint hasn't won a season-opener since the fall of 2011, which was the last year his team won a postseason game. There is potential in this team, both good and bad. And maybe, finally, we will get a good look, unencumbered by crutches and walking boots and season-ending injuries, at what its head coach is made of these days.
Ed. Note: The article has been changed to correct a previous error. The Drexel men's basketball team is 40-51 over the last three years, not 30-51.