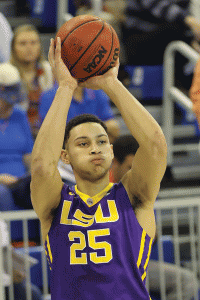 In the world of the Philadelphia 76ers, it is, as the kids say, "lit."
I watched the NBA Draft Lottery at the "Rights to Ricky Sanchez" lottery party at Xfinity Live! with David "The Hypebeast" Hagelgans and Triangle entertainment editor Shane "Plane_Shane" O'Connor. As the cards turned, the anticipation built, as did the fear that once again, the Sixers would fall short. When NBA Deputy Commissioner Mark Tatum flipped the card revealing the third pick to belong to the Boston Celtics, the crowd exploded with excitement. That excitement turned to outright euphoria for Sixers fans as Tatum revealed the Los Angeles Lakers as the recipient of the second pick, meaning the Sixers would pick first in the 2016 draft. As The Hypebeast, Plane_Shane and I hugged and celebrated. I couldn't believe it had finally happened.
After years of rotten luck and tough breaks, the Sixers seem to have finally gotten their chance to take the leap they've so desperately been searching for since the hiring of (now replaced) Sam Hinkie as general manager three years ago.
Two consecutive draft lotteries yielded somewhat disappointing results, with the Sixers landing third in the previous two drafts. The goal of the "process" was always to find a game changing player, and the last two years have been a mixed bag at the third spot.
In the 2014 draft, the Sixers selected talented but injured big man Joel Embiid, a widely touted player who has yet to play a single NBA minute. All indications are that the talent and athleticism is there to make Embiid a centerpiece to a great team, but the questions about his health are daunting. If he can manage to stay consistently healthy once he finally makes his debut, the wait will be worth it, but the jury is still out in that regard.
In the 2015 draft, the Sixers picked yet another big man, Jahlil Okafor from Duke University. Okafor has no long-term health concerns, but struggles with defensive recognition and lacks the athleticism and natural defensive ability to make up for it on that end. On the offensive side of the ball, he's outstandingly skilled but a bit too ball dominant and struggles to handle double teams and plays a style that doesn't seem well suited for modern NBA. He's a good player in a crowded position for the Sixers. He is not a franchise-changing player.
It looks like things will finally turn around this year for the Sixers. They'll finally be able to get "the guy," a player that can carry a team with no real limitations. With the first round pick, they'll be able to pick between Ben Simmons and Brandon Ingram as their new corner piece without being dependent on the whims of other teams dictating who will fall to them.
Both of those players are great and look to have long successful NBA careers ahead of them. Simmons, an Australian born power forward, dazzles with an incredible ability to read the floor, lead the fastbreak, and attack the rim. He's got unbelievable handles for a player his size and can easily handle point guard duties on offense for a team that desperately needs a distributor. He rebounds very well and has the tools and ability to be a plus defender in the NBA. His weaknesses come down to one thing: shooting.Throughout his entire freshman season, Simmons avoided shooting from farther than five feet like the plague. He took three three-pointers all year, hitting one of them. In the modern NBA, three-point shooting is pivotal, and for Simmons to be successful in the league he'll either need to develop a respectable jumper or be surrounded by shooters.
Ingram on the other hand is not shy about shooting. The six-foot-nine guard shot 41-percent from deep in his freshman season at Duke and averaged 17.3 points per game. He handles the ball very well for his size and can create for himself fairly well, and is improving at getting to the basket. I have personal doubts about how well his athleticism translates in terms of shot creating on the next level, but he's truly talented at it. His body type will cause NBA defenses fits, since his wingspan and height will be difficult for a normal guard to contain. That same body, however, could be a weakness, as he's clearly too thin to put up with the physical defense played on the next level. On defense he has elite physical tools, including a seven-foot-three wingspan, but fundamentally struggles a bit on that end. Honestly, there aren't that many holes in his game, but his skill level is just a tad below where I personally rate Simmons'.
It was a great day for Sixers fans; the best I can remember in a long time. After three long years, the Sixers finally can come away with a prize worth losing for. I only wish Sam Hinkie could be here to reap the fruits of his labor.