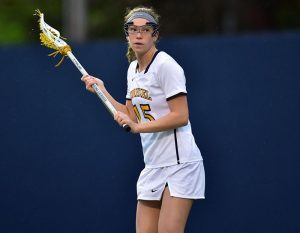 The Drexel University women's lacrosse team took a loss against Elon University April 22. The final score of the game was 8-4 as Elon overcame a two-goal deficit and captured the victory. Drexel got on the board first with a score from junior Lauren Gerrie, her 13th of the season. She scored a rebound from junior Devin Nihill.
Elon answered with a goal of their own. Senior Emily Duffey registered the next goal for the Dragons, but Elon rebounded quickly to tie the game at 2-2.
The Dragons kept the Phoenix from scoring for the 19 minutes remaining in the first half of the game. Junior Carlee Ries made some impressive saves during that time.
Freshman Grace Osterdale scored her fourth goal of the season and Gerrie put the Dragons up by two with another goal off an assist from junior Lacey Aghazarian. The game entered halftime with Drexel up 4-2.
After halftime Elon came out strong and Drexel was unable to score. The Dragons also failed to capitalize on five free position chances, while Elon scored on three of their chances. Drexel was penalized with six yellow cards over the course of the game and five of those were in the second half. The Phoenix was able to score six unanswered goals in the second half, bringing the final score to 8-4.
"In the second half we lost the mental game.  We were focused on things we couldn't control, on mistakes we had made. All season we've been a team that bounces back quickly and resets mentally for the next play, and we just didn't do that. The good news is that we know we are so much better than that, but it's unfortunate to not have demonstrated that in a conference game," coach Hannah Rudloff commented regarding the team's performance in the second half.
The Dragons will welcome Hofstra University April 30 for the final game of the regular season.
"For Hofstra, we are really boiling things down to mature, fundamental lacrosse. Solid body positioning and teamwork on defense and smart, calculated play on offense. When we play like that, we are a great team that is tough to beat," Rudloff said.
The Dragons now have one game left in the regular season to play for a spot in the Colonial Athletic Association Championships.