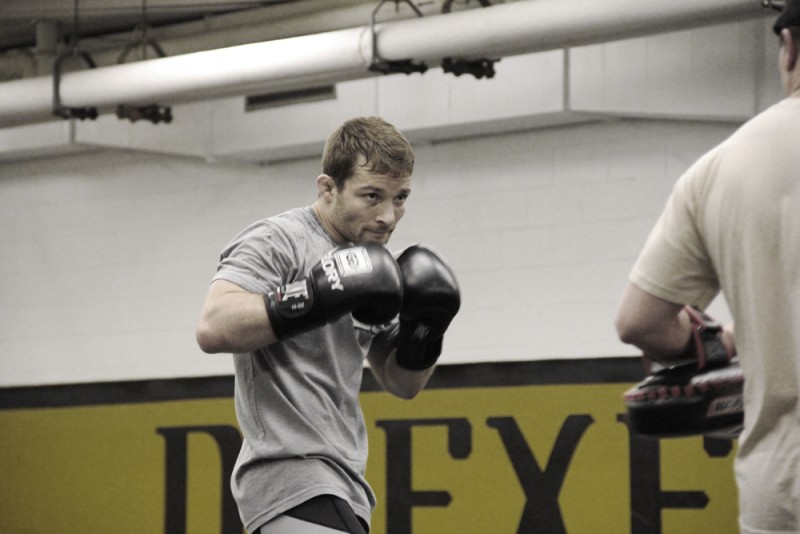 Under the low lights of Drexel University's wrestling room, alumnus Zach Makovsky rat-a-tatted left hooks and thunderous right-footed kicks. The No. 9 flyweight in the Ultimate Fighting Championship let each meeting of flesh and leather linger, flexing his prowess.
A half-hour before his gym session in the wrestling room, the former Drexel wrestler and 2006 graduate wore a blue T-shirt, emblazoned with the words, "Smokin' Joe Frazier," an homage to the Philadelphia boxer. Makovsky's father was a fan of Frazier's longtime rival, Muhammad Ali.
Makovsky sported a black eye under his right socket, a byproduct of grappling practice three days earlier.
"It's a pretty regular thing for me," he said, grinning.
Standing a manageable 5-foot-4-inches, 125 pounds, Makovsky — nicknamed "Fun Size" — commands a room all the same. His steely jawline, closely-trimmed beard and sandy-blonde hair combine a boyish face with a physique not eagerly trifled with. He has won 19 fights in his mixed martial arts career, succumbing just five times.
* * *
Stomping Grounds
Makovsky spent the afternoon of May 14 talking to reporters and training with longtime friend Ricky Lee in the basement of his alma mater's recreation center, where his former wrestling team trains. He still spends two to three days a week training on campus. After working four years as a strength and conditioning coach for the University upon graduation, his fellow Dragons keep him well-connected.
A biology major during his time in University City, Makovsky wasn't sure what he wanted to do when he began college. He said he chose Drexel because of the city and because of the co-op program.
"I liked the idea of the co-op program," Makovsky said. "[It's] kind of, don't go into college kind of blind, come out and then be like, 'Oh, I don't want to use this degree.'"
He was a five-year, three co-op student. He learned in his first co-op that he didn't want to pursue anything related to pharmacy. For his second and third co-ops, he leaned more towards personal training positions.
"As I got more and more into athletics, I tried to learn more and more about that," Makovsky explained. "I was close to having a nutrition minor but just couldn't finish it on time.
"Most of the bio electives I got to take were anatomy and physiology, exercise physiology, so I kind of geared towards that stuff."
Assistant wrestling coach at Drexel, Zach Sheaffer, said Makovsky has always defied the stereotypes of professional boxers and fighters.
"Such a smart guy," Scheaffer said. "Boxing and fighting guys sometimes get this reputation, but he's a real smart guy. He reads a ton of books, a lot about mental and physical stuff."
Makovsky himself admitted he doesn't have too many hobbies outside of the fighting world.
"Not as many as I should, probably," he said, sheepishly. "I read. I've got my TV shows."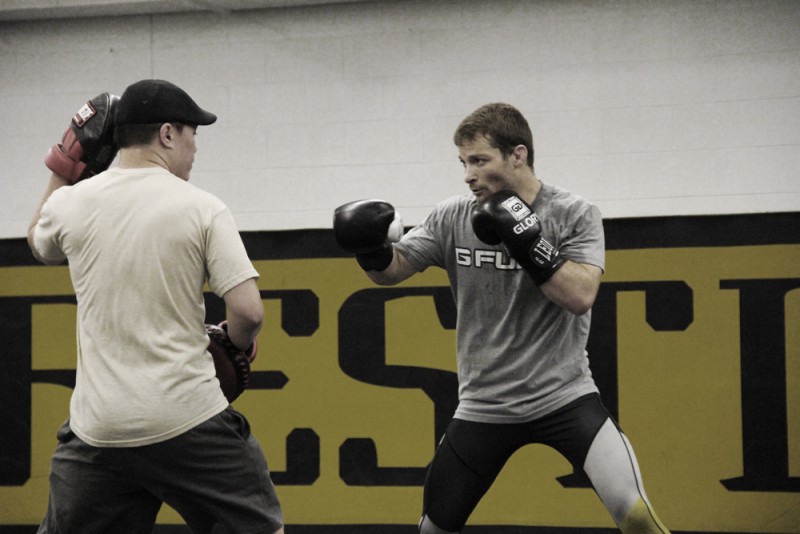 * * *
Gearing Up
For the last month Makovsky has spent most of his time in Montreal, training at Tristar Gym.
"Firas Zahabi is one of the smartest guys," Makovsky said. "He's my main MMA coach. I was [in Montreal] getting the best work that I can."
Makovsky spent the time in Montreal hitting every page in the training book: boxing, kickboxing, jiujitsu, wrestling and sparring, to name a few.
"And lots of sleeping," he added, laughing.
He's gearing up for UFC 187 on May 23, when he will face off against John Dodson in the premier flyweight preliminary card.
The fight, held at the same MGM Grand Garden Arena in Las Vegas that housed the recent bout between Floyd Mayweather Jr. and Manny Pacquiao, will be the biggest of Makovsky's career. The winner, most likely, will earn the right to fight the flyweight world champion, Demetrious Johnson, who is 22-2-1.
After spending the first few years of his career thriving in Bellator MMA, before losing promotion and fighting just twice in a span of about a year, Makovsky's time with UFC has seen his reputation and career take off. He's 3-1 in just over a year in the promotion.
* * *
Full Circle
Makovsky's UFC experience began with a little help from John Dodson, his next opponent.
After being dropped by Bellator following two straight losses, Makovsky floated between promotions.
In November of 2013, he defeated Matt Manzanares in Denver for the vacant Resurrection Fighting Alliance Flyweight Championship. It was his first and only fight for RFA.
Afterwards, he left and headed southwest.
"I went to Albuquerque, New Mexico, in November 2013 to use the altitude," Makovsky explained. "I'm friends with [Dodson] and some other guys down there. I was training with him while he was getting ready for [his next] fight."
But Dodson didn't fight his next fight. Makovsky fought for him.
When Dodson suffered an injury in training, Makovsky stepped in, signed to UFC and took on Scott Jorgensen at UFC on Fox 9 December 14, 2013. He won in a unanimous decision.
A year and a half later, Makovsky is poised to fight the man who gave his mixed martial arts career a needed boost by suffering an injury.
Dodson is currently the top challenger in the flyweight division, ranked No. 2 with a career record of 16-6.
"I've spoken to [Dodson], about the fight [in 2013], making sure he knows it was nothing personal and it really wasn't my idea," Makovsky said. "But of course it was a great opportunity for me, and he knows that. He feels the same way."
Makovsky said he and Dodson, who is going to be a father soon, have talked since that December. Dodson told Makovsky that, no matter what happens in their upcoming fight, the two are going to go out and celebrate his coming fatherhood.
* * *
The Quiet Competitor
Makovsky spun and launched kick after kick in his second training session with longtime friend Ricky Lee. Each landing kick boomed, ricocheting off the blue mats and yellow-striped walls where Makovsky used to wrestle.
Lee has trained with Makovsky since 2002, when the two met in Philadelphia. They trained at Philadelphia Fight Factory, which closed down in 2013. Now the two live in Fishtown, Pennsylvania. Sometimes Makovsky trains in Lee's basement.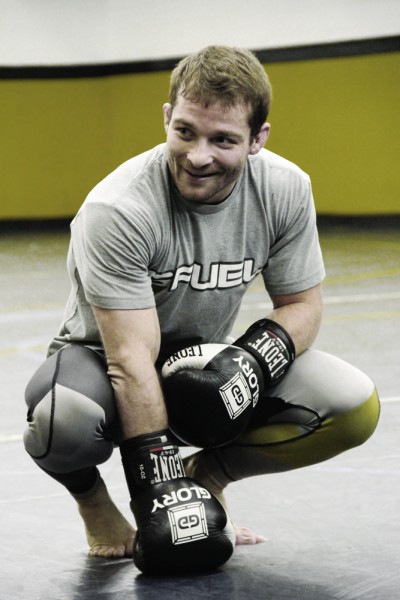 Lee said he thinks his good friend is ready for the challenge Dodson will pose.

"He's good," Lee said, nodding his head. "He feels healthy, he looks good, he looks sharp as ever. Definitely good."

Before fights, Lee said, Makovsky is his normal self: soft-spoken, easy-going. When Makovsky cuts weight before fights, Lee said he's the only fighter he knows who doesn't get angry.

"Every fighter I've known is angry when they're cutting weight, and he's never angry," Lee said. "I've only seen him angry one time, and that was when I beat him at wall ball in here when we were warming up. It was one of the funniest days of my life."

Makovsky, Lee said, is competitive. Sometimes he can't hold himself back.

The closest Lee's ever come to being knocked out came when he and Makovsky were training.

"He missed, and he hit me in the face," Lee said, laughing at the memory.

"Humble dude. Soft-spoken," Lee continued. "You would never know that dude's a fighter. But he loves it. He eats, sleeps and poops it. No lie.

"It's exhausting. Every minute, he's always watching fights. He loves it."

* * *

As Makovsky crouched between sessions, Drexel head wrestling coach Matt Azevedo, hugging the wall of the wrestling room, shouted out to Makovsky.

"Are you left-handed?"

Makovsky nodded.

"Did you wrestle left-footed?" Azevedo questioned.

"Nope," Makovsky replied. "I wrestled right-footed. I punch left-handed."

He stood up and grinned.

"It all worked out," he said.

___