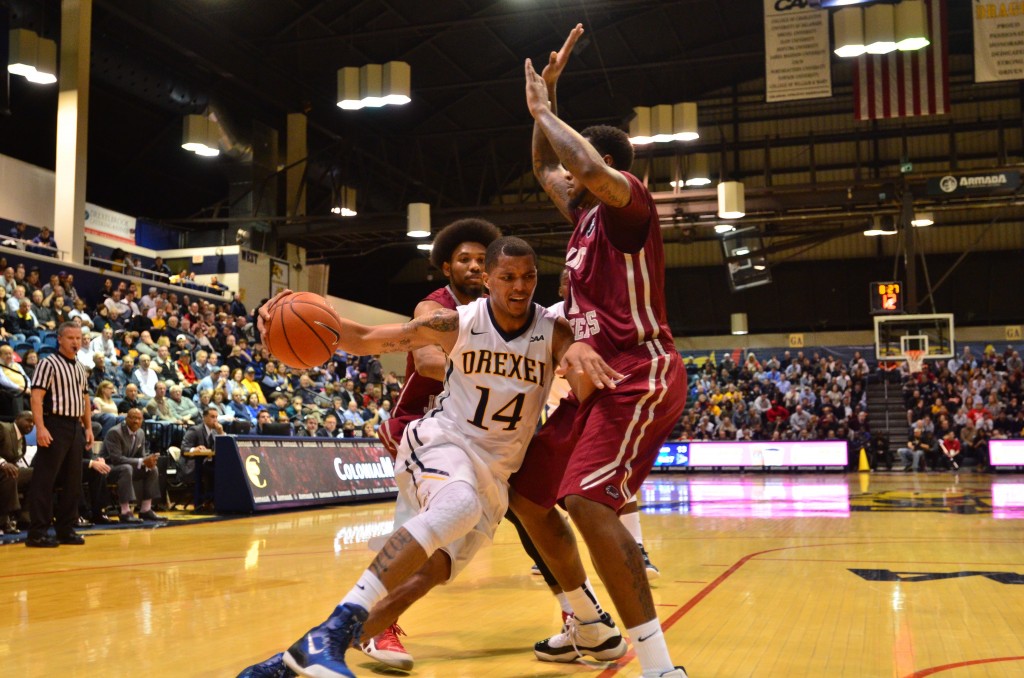 He waited, and he waited, and he waited.
Damion Lee waited 20 months for the night of Nov. 17, a Monday.
By the time announcer Dan Baker called his name, "from Baltimore, Maryland, number 14," and the crowd at the Daskalakis Athletic Center detonated in rapturous applause, it had been 624 days since the now-junior guard played basketball in front of a home crowd.
Last year Lee sat on the bench with an anterior cruciate ligament injury he suffered Nov. 27, 2013. He sat and watched in dress clothes as his best friends played an entire conference slate; he sat courtside at the Baltimore Arena in March as they failed to win a first-round game in the Colonial Athletic Association tournament. He was helpless.
When he finally got his chance to play in front of a filled-to-capacity student section, Lee did his best to make the most of his opportunity. He opened the night's scoring with a slicing cut to the hoop — at the same end the hundreds of fans, soaked in Drexel gold, were parked.
They erupted, he erupted — the campus erupted.
And then Drexel lost.
With every ferocious drive that saw Lee seemingly parallel to the hardwood of Sam Cozen Court, there was a Drexel turnover or a missed shot from a teammate. For the two three-point buckets he knocked down there were five that he didn't; for every one of the seven rebounds he demonstratively plucked from the airspace surrounding the rim there were five that Saint Joseph's University players claimed.
The final shot found itself in Lee's sweaty palm as the clock quickly ticked past the 4.0 mark, and his final field goal attempt of the night, number 18, clanked off the front of the rim. The scoreboard above what was meant to be his celebratory floor told a story he didn't want to hear.
Lee finished his long-awaited homecoming with 23 points, 17 more than any other teammate sporting the team's newly-minted white jerseys. After the game he didn't care about the points. In his homecoming — the one he waited for, and waited for, and waited for — he lost.
"It was cool, playing at home, being that I haven't played in 20 months," Lee said in his trademark quiet tone after the game, "but the points really don't matter because we didn't win.
"It's cool to score the ball, I know that's my job on this team. I have to come ready every night, be an aggressive player and look to score the ball for us to win. That's not the issue. The issue is that we didn't win."
Lee thought he should have made more shots in the second half; it wasn't a defensive adjustment from the Hawks that saw him miss seven of his last eight shots, he said, but a failure to make easy ones when they mattered most. He said he feels healthy after recovering from the injury, that wasn't the problem. And he thought his final shot, the one that would have given him exactly half of his team's points on the night and sent his homecoming into dramatic overtime, was good when he let it go.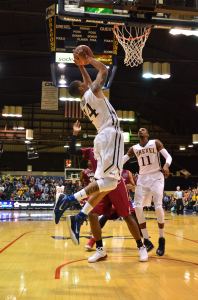 "I thought it was good," Lee said. "I'm sure everyone else in the gym did as well. I know I was pretty far out, but once it released my hand I thought it was in."
It wasn't, and he didn't save the day.
For Lee, it was everything he'd waited for, and he didn't make the shots when he had to.
For everybody else, however, the story read differently.
"In a lot of ways, college basketball's about the kids," St. Joe's head coach Phil Martelli said after the game. "A lot of people get confused, they think it's about the coaches. To see Damion Lee back, playing, I think it's a wonderful thing.
"That's what I just said to him. I admire the way he plays, and I think that — that's what's good about this game."
To his own head coach, James "Bruiser" Flint, Lee is the least of his worries.
"Listen, I have no problems with Damion Lee," Flint explained. "He's going to be fine."
Flint said he needs more from the players surrounding Lee to step up in the team's next game, Nov. 20 against the University of Miami. He thought the junior guard played with patience, something Lee became well-acquainted with during his wait.
And to the hundreds of fans in the student section, Lee did everything right. He hit the floor in pursuit of loose balls time after time, refusing to give a single edge up until the final buzzer sounded. He drove with reckless abandon to the hoop, drawing fouls and burying all nine of his foul shots. He took twice as many shots as any one of his teammates, but he scored nearly four times as many points as any other Dragon.
Lee gave nearly everything he had to a crowd that asked for a kingdom and received even more in return. The last item on his checklist, the game-tying shot as the clock wound down, will go home with him tonight, a single box unchecked on an otherwise dazzling evening.
Even he understood his limits.
"You make some, you miss some," Lee admitted afterwards. "You're not going to make them all."
For that last shot, he'll just have to wait a little longer.