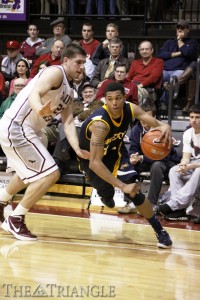 Drexel freshman basketball player Damion Lee has been turning many heads with his surprising play to this point in the young season.
Lee, a 6-foot-6 guard from Baltimore, has started and been a key contributor in all four games this season.
Lee began high school in Connecticut, where he was a First Team All-New England Preparatory School Athletic Council selection after averaging 17 points, six rebounds and five assists per game. Finishing up school in Maryland at Calvert Hall College High School in Baltimore, he was a Second-Team Baltimore Sun All-Metro selection and a First Team All-Baltimore Catholic League pick. His high-level play in high school certainly appears to have prepared him well for the rigors of playing Division I college basketball.
"The game is faster, the guys are stronger and the decision making has to be quicker," Lee said of playing college ball.
Lee seems to have made a very smooth transition, as he is currently second on the team in rebounding and third in scoring. In his first game at Drexel, a nationally televised 6 a.m. bout with Rider, Lee showed no jitters as he scored 14 points and collected nine boards. In his second game, a loss to Norfolk State in the Virgin Islands, Lee led the team in scoring with 21 points. In the final game in the Virgin Islands, Lee had nine points, eight rebounds and seven assists. His stellar play has garnered early-season recognition — he was named the Colonial Athletic Association Rookie of the Week.
With Chris Fouch, last year's leading scorer and one of the top three point threats in the CAA, sidelined with a knee injury, the Dragons desperately needed different players to pick up the scoring load. Lee has pitched in mightily, averaging over 12 points per game, and he has not let the pressure get to him.
"I just play my game and do what the coaches tell me," Lee said.
While the Dragons area young team with only one senior on the roster, Lee has received guidance from upperclassmen.
"All of the upperclassmen encourage me and tell me to play like I have been here before," Lee said.
Lee certainly looks the part of a polished veteran. Head coach James "Bruiser" Flint has no problem with this freshman on the floor during crucial moments in the game. Lee is leading the team in minutes played with over 37 per game. The mental and physical toughness this requires night-in and night-out can wear on younger players, but so far it hasn't on Lee.
"I don't think about that," Lee said. "All I think about on the court is how we can come together and win."
One of the key ways Lee has helped Drexel earn its two wins on the season has been by attacking the glass. At 6-foot-6, not only does he create severe matchup problems for the opposition, but he is also active around basket. Lee is averaging 6.8 rebounds per game.
"Rebounding is something I feel that not only can help me as a player but help us win," Lee said. "It gives us second-chance opportunities and gets us out on the break."
Although this is the beginning of the season, Lee has shown a great deal of talent and poise — things Drexel fans can look forward to seeing more of this season, a season in which Lee hopes to remain as consistent as he has been so far.
"The mental focus and consistency needs to be there," Lee said. "For me, I have to make sure everyone is involved and make open shots."
For the casual fan that may not have a strong basketball vocabulary, Lee simplified his keys for success: "We need to bring it every day."