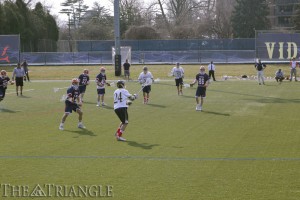 Drexel senior Aaron Prosser was selected with the 36th overall pick in last weekend's Major League Lacrosse player entry draft. Prosser, a midfielder, was selected in the fifth round by the Denver Outlaws.
The selection comes one year after Prosser's best career season to date, in which he scored 24 goals and tallied six assists. He was a starter for all 16 games, playing midfield.
For Prosser, the selection comes as a relative surprise. He was not following the draft, which took place Jan. 11, too closely. Fortunately, a friend was, who filled him in on the life-altering news rather quickly.
"I got a call from a friend," Prosser said. "I actually wasn't tuned into the draft. I didn't think it actually was going to happen, so I got a call from a friend saying, 'You've been drafted.' I looked it up and it was pretty cool; I was pretty surprised."
As per collegiate rules, the MLL teams were not permitted to communicate with him, so he was in the dark in a sense as to what to expect. The only indication he had that something may happen and that he had a chance at a professional career immediately after the collegiate level was that his coaches told him that teams had asked and talked to them about him. But even that does not mean too much; teams could have just been looking extra thoroughly at everyone.
With that in mind, Prosser did not get his hopes up too high leading up to the draft.
"I had a hunch, but I thought it was below 50 percent," Prosser said. "I didn't think it was actually going to happen."
When asked if he would pursue a career with the Outlaws, who are owned by the Denver Broncos, Prosser said, "definitely." The tentative plan for him is to look into moving out to Denver following his graduation from Drexel.
"That's the plan [to move to Denver], maybe in May. As soon as the season's done I'll fly out," Prosser said. "I only have a few credits left to graduate and then will hopefully end up out there. That's the plan."
For now, however, Prosser has some work to do with the team he currently plays for, the Drexel Dragons. The team is getting set once again to open the season against the University of Virginia and continue to build on what has been a very successful stretch in Drexel lacrosse history.
In Prosser's opinion, that strong recent history is a big reason why he was drafted, as it put Drexel on the country's collegiate lacrosse radar.
"It was just being part of a Division I school and Drexel's success," he explained. "When I first got here, that was the first time they made it to the [Colonial Athletic Association] championships, so that was the first time they got on the map."
The program continued to make positive strides.
"Ever since then, it's been a battle uphill," Prosser said. "We've gotten to being ranked seventh in the nation, so being part of that fluctuation has put the spotlight on, us, on Drexel. Just doing well, Drexel's success has helped me."
A number of other Dragons have recently been able to play in the professional league following their collegiate careers at Drexel. Among the Dragons in MLL are Dana Wilbur and Mark Manos, former teammates of Prosser as recently as the 2012 season, playing with Hamilton and Charlotte, respectively. 2008 graduate Bruce Bickford is a goalkeeper for Boston, and Scott Perri and Frank Tufano were members of the Long Island Lizards, although they never played a game.
Prosser is committed to continue building on that success at Drexel, and he said the news of the draft will not change how he prepares for the season. Drexel is his top focus for the next few months.
"My first concentration is Drexel right now and getting back to the state championships. So right now I'm just focusing on UVA, but it was nice last weekend to think about the future," he said.
Drexel is less than a month away from starting the season Feb. 16 in Virginia. When the season starts, the Dragons will be relying heavily on a young team to continue the success.
"We have a young defense, a whole new team, a lot of new faces," Prosser said. "A lot of guys need to step up on offense, so it's pretty much getting back to being a team again and getting back to the CAAs like we were last year. We're trying to do it again."
It is a challenge Prosser is looking forward to facing before taking on a much greater challenge across the country. But that is not until May. Right now he is looking squarely at February.
"I'm really excited for the season — really, really excited for Feb. 16," Prosser said.