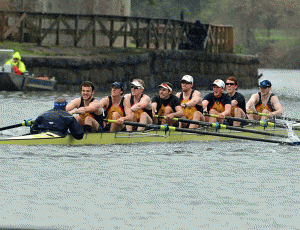 In their last races before the much-anticipated Dad Vail Regatta, the Drexel University men's and women's crew teams competed April 30 and May 1 respectively.
While the men's team had a strong weekend, the women's team were unable to get any trophies home.
The Drexel men's crew saw action April 30 as they took on Columbia University and The University of Delaware at Overpeck Park in Leonia, N.J. Even though the race was a small heat, the Dragons faced stiff competition as they took Columbia, whose lightweight eight ranks second nationally.
The varsity eight put up a fight, racing the Sandra Lee Sheller II, but came up short with a second-place finish. They lost by four seconds to Columbia, but beat Delaware by more than 17 seconds.
The freshmen eight, however, took home a win in the Joseph Greipp boat, besting second place Columbia by almost six seconds. The second varsity eight, racing the Lois Krall boat, also came away with a victory as they defeated Columbia by just over five seconds with a time of 6:16.2.
The women's crew team participated in the Eastern Sprints on Lake Quinsigamond in Worcester, Massachusetts. Conditions were not ideal up north, as the team battled not only tough competition but also fierce wind and rain for most of the day. Among Drexel's opponents were conference rivals Northeastern University and Buffalo University.
The big winner of the day for Drexel was the varsity four, as they made it to the grand final. The second and third varsity eight teams won their respective petite finals, and the varsity eight finished second in the petite final after narrowly missing a spot in the grand final.
In the grand final, the varsity four raced the Sandra Lee Sheller boat and took sixth place, but it was still a good day for them considering that they finished in the highest position for any Drexel boat. The varsity eight, despite finishing in the lowest overall place among Drexel's boats, still had a strong day with an eighth place finish overall, falling to first place Boston by under five seconds in the petite final.
The second varsity eight, who won the petite final in the Marlene Buckley II boat, finished with a time of 7:25.958 for seventh place overall that day. The third varsity eight, racing the Maria Papadakis boat, also won their petite final with a time of 7:59.015, a good enough time to beat everyone in their heat by at least 15 seconds, including an assortment of third varsity, fourth varsity, and freshmen boats.
Coming up May 13-14 is the Dad Vail Regatta. Both the men's and the women's teams will be looking to protect their title and going for their fourth straight victory.