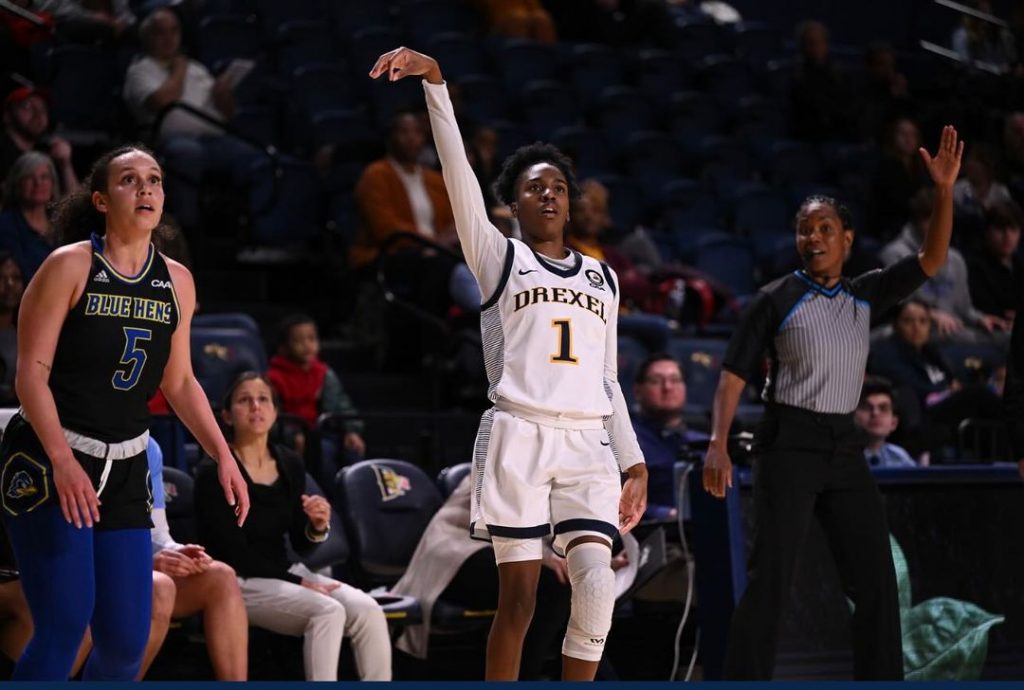 Approximately five years ago, Keishana Washington made a commitment to Drexel University to continue her academic career and her athletic one on the basketball team. Over the next four years, Washington established herself as one of the best players in program history, leading Drexel to a CAA Conference championship and a NCAA tournament appearance while collecting accolades and setting records.
Just under a year ago, when Washington had the opportunity to take her immense talent elsewhere, she reaffirmed her commitment to Drexel, agreeing to play out her fifth and final year of college basketball here on 33rd and Market. She has since cemented her legacy as one of the best basketball players to come through not just Drexel but the whole Philadelphia college basketball scene.
Washington eclipsed the remarkable milestone of 2,000 career points last Friday in the Dragons' win over Hofstra, leaving her in second place on the all-time scoring list in program history. With still half of a season to go, Washington has a very realistic shot at breaking even more records before her collegiate career is over. Keishana's career has been a special one, and her legacy is not yet done being forged.
When making her college commitment, two things swayed the Pickering, Ontario native towards Drexel.
"Being as close to home as I could get, making sure my parents would be able to come out and see me play as much as they could," was important to her, Washington said. "And then the culture of the team, the atmosphere, the coaches, my teammates, the whole athletic program in general. I love being here and the program that I'm in."
Year after year, Washington has grown as a player. She has gone from averaging 7.4 points per game as a freshman to 26.9 points per game as a 5th year senior. On top of this, Keishana is averaging 4.1 assists per game, a total that is almost double her average from last year. The key to her success, she says, lies in those who surround her.
"Each year I've grown as a player and I've gotten more confident, putting in extra work in the gym and in the offseason. This year, teams are really honing in on me and guarding me in certain ways so I'm able to find my teammates when they're open, especially when teams are throwing two people at me. I think that just comes with awareness and relying on my teammates to knock down shots when they're open, which they have been," Washington said.
Keishana currently stands as the second leading scorer in the nation, only two points-per-game behind Villanova's Maddy Siegrist.
Washington admitted that, "It is something that I'm cognizant of but it's not necessarily something that I'm focused on during the game… I'm focused on how we can win championships. But when I do have the chance to sit down and talk about it, it is something that I am proud of especially considering where I started and where I am now"
In 2021, the Women's Basketball team won the CAA Championship for the first time in over a decade, a moment that Washington remembers as one of her best as a player. In 2022, the Dragons had the opportunity to repeat as champions on their home court; however, they fell heartbreakingly to program rival University of Delaware by just four points. Despite this, Washington says the team is hungry to get back to champion status and punch their ticket to the NCAA Tournament.
"Obviously losing sucked, especially on our home floor, but coming into this year, everyone is hungry. Everyone has a desire to go hard and get back to where we were and win it all again," Washington said. "We have a target on our back. Teams are going to try and take me out of the game and do whatever they can to stop us but I think we're very aware and our target keeps moving so people can't catch us."
At the end of the 2022 season, Washington had the opportunity to seek greener pastures and transfer to another school.
"I think when you're playing for a program that values you and appreciates you and has done so much for you over the past four years, it's a no-brainer to want to come back and be a part of that again and continue to impact the team and the program, along with the ability to get my master's. That decision came really easy to me," Washington said. "There was a lot of talk about transferring and going elsewhere but my mentality is, if a program is treating you well and values you then why would you leave? The grass isn't always greener on the other side. I'm glad I did stay, I love this program and I love my team."
In sticking by the program that she loves, Keishana Washington has been able to build upon the strong history of Drexel Women's Basketball, all the while garnering the respect that she argues the program deserves.
"I think since I've been here a lot of teams have disrespected us in some ways, they haven't thought we were very good or whatever the case may be. I think obviously we have proven otherwise with the amount of games we've won, championships, regular season titles and things like that. I don't think that it can be denied anymore especially when we've also beaten the 'better teams' in Philadelphia…but I also think that it's something that makes us hungry to be respected and have people want to come after us because we're that good," Washington said.
What it all boils down to is this: Keishana Washington is just like any student at Drexel (albeit, she is a student with immense athletic talent who is likely to be drafted to the WNBA) Off the court, she loves listening to Drake. Her favorite restaurant in Philadelphia is Giorgio on Pine. Her favorite food is salmon and baked potatoes. And just like the other 26,000 students at Drexel, she is in academic and extracurricular programming. And, like anyone else, she loves her school and the programs that she is a part of.
Luckily for all fans of Drexel and great basketball, Keishana Washington will take the floor at least ten more times for the Dragons as they seek to restore their status as champions. Washington is a rare talent, the kind of talent that students and fans might not get to watch up close again for a long time. The Drexel community should make it a priority to celebrate her greatness, along with the rest of the team's success, for the rest of the basketball season.