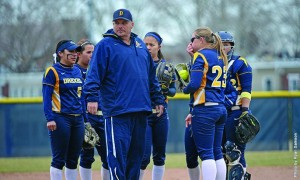 Newly-hired Drexel University softball coach Carl Taylor loves softball for many reasons. In his own words, he loves it because "it's a very fast-paced, exciting game with an emphasis on strategy and execution."
Once a baseball player himself, Taylor was drafted in 1979 by the Pittsburgh Pirates in the Major League Baseball draft.
He also loves Drexel.
"There seems to be a unique sense of pride among the Drexel family," Taylor remarked. "I have been so impressed with the support of the administration and the students."
Drexel loves him, too. His love of softball and Drexel makes him a perfect fit for his new position at Drexel as permanent head softball coach, the university announced earlier this week. Starting July 1, his title as head coach becomes official.
However, Taylor isn't new to the Dragon community. He's been working with the softball team since February as the interim head coach.
Taylor is quite seasoned in the softball realm, with his experience ranging from the high school level, to the professional scene. Before Drexel, he was the head softball coach at Winslow High School in Atco, New Jersey, where he also taught health and physical education. He also coached a professional softball team called the Philadelphia Force for two years starting in 2008. His college-level experience includes assisting at Georgian Court University for a year, and a 12-year stint as the head softball coach at Rutgers University-Camden.
At Rutgers-Camden, he led his team to a NCAA Division III National Championship in 2006. He was the first coach in Rutgers-Camden history to capture an NCAA title.
Now, he couldn't be happier to be at Drexel — and he's got big goals for the program.
"I am ecstatic about moving into the permanent role as head softball coach at Drexel University. The future is very bright for this softball program," Taylor said.
Taylor started working with the Dragons two weeks before their season began, and managed to lead them to 19 wins despite the short timeframe the coach had to get to know the team. He also helped two Dragons, Sylvia Llamas and Paula Ueno, to First-Team All CAA honors in the 2015 season.
He's hoping to turn the program around, starting small at the CAA level and then working up from there.
"Some goals for the near future are a winning season, making the playoffs and eventually a NCAA tournament berth," Taylor said.
Softball will get back to work, with a new man in charge, when the team's season begins at the end of winter.