Three Drexel athletes were recognized for their academic achievement by the Philadelphia Inquirer May 31. Cole Gindhart and Daniel Zalkind from the men's swimming team were named to the Philadelphia Inquirer's Academic All-Area Men's Swimming and Diving Team and women's swimmer Jessica Csakai was named to the paper's Academic All-Area Women's Swimming and Diving Team.
Each season, the Philadelphia Inquirer identifies local athletes who excel in the classroom. The newspaper names a team at the end of the season to recognize the athletes for their academics after considering athletes from 28 local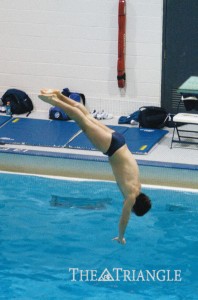 institutions in the Philadelphia area. Members of those institutions' sports information offices select the athletes. Each of those institutions does so as part of a partnership with the Philadelphia Inquirer.
The Philadelphia area is home to many talented athletes. For Gindhart, to be among the best is rather meaningful.
"To be selected for the Academic All-Area team in a city like Philadelphia with so many schools and athletes to pick from is an honor," Gindhart said.
Among the high-achieving athletes in the city are the many Drexel athletes who perform exceedingly well in the classroom. Gindhart, Zalkind and Csakai were three of the 11 Drexel athletes who earned a cumulative GPA of 3.2 or higher.
"Drexel is full of athletes who excel both in athletics and in the classroom," Csakai said.
Each of the three athletes felt honored to receive the recognition. For Csakai, the honor was part of a fantastic ending to her last season swimming for Drexel.
"I couldn't have asked for a better end to my final swim season at Drexel," she said.
Each athlete also spoke about how much time and effort is needed to be a student athlete. The time and effort needed to succeed in both areas makes the honor more special and rewarding for them.
"I put in a lot of effort into my schoolwork, so it's nice to be recognized by the Philadelphia Inquirer," Zalkind said.
Although challenging, Gindhart pointed out that awards like this and being recognized for his hard work makes all of the time and effort spent studying and taking part in athletics worth it.
"Doing well in college academically and competing as a varsity athlete takes a lot of time and effort," he explained. "When you put them together, balancing the two can be very overwhelming at times, but it's honors like this that make the challenge worthwhile."
Drexel athletes will continue to experience the challenge of life as student-athletes. Their hard work, time and effort will continue to be noticed and rewarded, so look for more Dragons — in all sports — to be rewarded for their successes in the upcoming seasons.