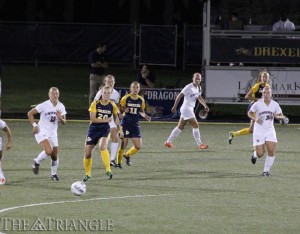 It has been a rocky start to the season for the Drexel women's soccer team. In games littered with inconsistency, the team has split the first third of its schedule as evenly as possible, opening 3-3-1.
The team got off to a slow start to kick off the season, falling to Rutgers University 1-0 Aug. 23. A second-half goal from the Scarlet Knights' Madison Tiernan did Drexel in, as goalkeeper Jessica Janosz kept Drexel off the board the entire game. Drexel keeper Eve Badana made two saves to keep it close.
Slow starts are nothing new for the Dragons, as this was the third consecutive year they opened their season by being shut out; two of those three defeats have come at Rutgers.
They would rebound to defeat Marist College 2-1 in their Aug. 26 home opener.
In a thrilling game, Marist's Samantha Panzer forced what would be two overtimes with her second-half goal with about 10 minutes left to play. Alyssa Findlay gave the Dragons their first win after she scored off a Civanni Moss corner kick with 95 seconds left in the second overtime.
After breaking even in two games, Drexel tied Villanova University Aug. 30 at home. The highlight for Drexel was a goal from Shyanne Kimbrough in her first career game.
"I saw the ball coming, and I put my head down and just drilled it," Kimbrough said after the game. "Hopefully it's the first of a lot to come."
Her 60th-minute goal would be the last of the game. Badana made five saves as the Wildcats outshot the Dragons 13-8.
The tie extended Drexel's home unbeaten streak to 17 games.
The Dragons then took a one-day break from action at their home field before defeating the University of Maryland, Baltimore County in Catonsville, Md., with a score of 3-0. Drexel recorded one goal from Megan Hammaker and two from Kimbrough, who continued the impressive opening to her Drexel career. Badana needed to make just one save to secure the shutout and give the Dragons their first road victory.
Continuing with inconsistency, Drexel was on the other end of a 3-0 shutout Sept. 6 at home against Liberty University, snapping the team's Vidas Field unbeaten streak — the first loss there since Oct. 30, 2010. The Dragons outshot Liberty 17-7, but that did not translate to goals. Holly Van Noord made six saves to shut out the Dragons.
At this point, the Dragons had outshot their opponents in three straight games by a combined total of 49-17. However, the team was only able to find the back of the net four times in those games, allowing four goals themselves and producing a 1-1-1 record.
"We focus on creating and manufacturing as many scoring chances as we can each game," head coach Ray Goon said. "Some might say that we've been a bit unlucky with our chances so far, but I believe that you create your own luck, so we'll just have to continue working hard until the ball starts to bounce our way."
Drexel bounced back and started a new unbeaten streak at Vidas Field, shutting out Longwood University 1-0 Sept. 8. Kimbrough picked up her fourth goal of the season in just five appearances. Badana made three saves for her second shutout.
But once again, Drexel stepped back and was on the other end of their previous victory's score, blanked 1-0 by the neighboring University of Pennsylvania in double overtime. Kerry Scalora ended the game after nearly 110 minutes of play to send the Quakers to their third victory on the season and run the Dragons' record to 3-3-1.
Despite the flaky start, Goon was not too disappointed with his squad's start to the season. There may have been higher expectations coming off their fantastic 2012 season, but he said the performance is just about what he expected because of their youth.
"We're relatively young after graduating five starters from last year, so we knew there was going to be a learning curve for the new players," he explained. "Additionally, the returning players needed to be patient early on to give the new players and starters a chance to settle in."
The challenge of the young players trying to settle in will become even more difficult this weekend. The Dragons will spend the weekend of Sept. 20-22 in Colorado, playing Colorado College Friday and U.S. Air Force Academy Sunday.
"Colorado College is a perennial NCAA Tournament participant, so we expect them to be a very formidable opponent," Goon said. "This trip will be a great opportunity to prepare for our conference schedule."
Following the road trip and one more home date with La Salle University, the Dragons begin CAA play. Kickoff against Colorado is set for 4 p.m. MDT.