Note: Before you read this piece, know that a baseline understanding of the Pennsylvania State University scandal is necessary, and I advise educating yourself before reading any further.
"We are Penn State" are words that echo across Happy Valley. Fans travel far and wide to watch the Nittany Lions fight under the bright lights of their stadium that seats thousands.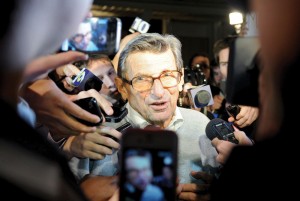 Penn State is a place to go where all your troubles are left behind. Where more than $78 million has been raised for the Four Diamonds Fund by the number one student-run philanthropy in the world, THON.
It's a place where students, alumni and professors alike bleed white and blue for the University that they love so dearly.
Will this remarkable reputation be ruined by the inconceivable acts of a rogue employee, or by the irresponsible oversights of the administration? Ultimately, no. But that doesn't mean that the current situation won't affect the University, the inhabitants of State College and people of Pennsylvania — and even the country.
But out of all those affected by this incomprehensible scenario — the victims of Jerry Sandusky's horrific acts won't be able to forget what happened. They can't just turn off the television or exit an article when they don't want to see any more. They will forever be scarred, and no amount of school pride or Penn State glory will ever erase what has been done to them.
Sandusky did things to these children that no one should ever have to experience — things that I myself feel uncomfortable even paraphrasing. This man ruined the lives of these boys and tainted the reputation of one of the most reputable and respected universities in the country.
But the administration didn't stop it. And now they are all gone. The foundation of the University has been completely shattered.
The question now becomes, legally, how far do the dominos fall? If, in fact, former Athletic Director Tim Curley and Vice President Gary Schultz did know of the extremity of the situation and didn't call police officials, are they then punished for the crimes Sandusky committed?
They technically followed University protocol, but just because they followed collegiate standards does not mean they pursued their moral duties to these poor boys.
They neglected to give a voice to children who didn't have their own. And for that, regardless of whether they are put behind bars or not, they will always have to live with the fact that they turned a blind eye to something they could have stopped. Something they could have saved.
Let's say for a minute that legal actions are taken on Curley and Schultz — what happens to legendary head football coach Joe Paterno? What happens to the charismatic and loved president Graham Spanier? They must have known. How could they not have known?
Joe Pa — a true legend. A man who has not only dedicated his professional career to Penn State but has devoted his whole life to the University. More than 46 years of absolute loyalty to his football program — a program that is almost unthinkable without him. A program that he considered his baby … maybe to a fault. Is it possible that he put his football team over the well-being of these boys?
That is open to speculation.
But after being fired and robbed of stepping down on his own terms, I can only hope that regardless of the legal outcome, that people remember Joe-Pa by what he has done, not by what he failed to do.
The sad thing is, you can spend your whole life building a reputation, and it takes one second to lose it all.
My heart and prayers go out to all of the victims who were hurt by this horrific and truly evil man. May no one ever have to go through what these helpless children went through – But may we all take away a lesson from this.
At the end of the day — this is beyond athletics. Beyond university protocol. It's about doing the right thing. And in this instance, that didn't happen.
When you see something that is wrong, make it right. Don't worry about your reputation or what people will think. Speak for those who don't have a voice.
There is truly no telling what will happen to these administrators that we all held to such a high standard and prestige. But I do know one thing – The students at Penn State will not let this destroy and tarnish the reputation of their University.
At the end of the day, "they are Penn State," and always will be.