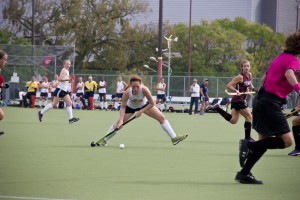 After a long and tough road trip for the Drexel Dragons field hockey team, a homecoming was overdue and welcomed with open arms.
Unfortunately the Dragons would not be playing at Buckley field. Instead, they would still be considered on the road, playing at No. 13 Temple University.
This would be the third straight road game in which the Dragons faced a ranked opponent. Playing against strong competition is allowing the Dragons to fix small but important problems within the team. In any sport, smaller miscues are always easier to spot when playing against a great opponent.
Coming into this game, the Dragons lost two straight close games against No. 3-ranked University of Maryland, College Park and No. 18-ranked American University. In both games Drexel was held scoreless, but the defense only allowed a combined four goals in those two games. With the offensive struggles that the Dragons have had against these ranked opponents, it would be important the defense kept up its hot streak against the Owls.
The defenses for both teams did not disappoint in this game. The first half was filled with many great defensive efforts including nine combined saves from the goal keepers.
It was important both goal keepers were in top form because not many shots went off target. Both teams combined for 19 total shots, and 14 of these were on goal.
The second half would turn out to be much like the first half, with both teams struggling to score. Despite the fact that the second half saw more opportunities for a breakthrough on the scoreboard, both defenses made sure to keep the game tied at zero.
Perhaps the defensive hero for the Dragons, next to goal keeper Jantien Gunter, was Allyson Fuller, who made multiple defensive plays to help out her goalie. In the second half both teams were starting to find lanes to score the ball, however, Fuller made a big stop which kept the game tied at 0. Her defensive stop came while Drexel was down one player due to a green card call.
The game came down to overtime where Drexel and Temple would continue their tough play. About six minutes into overtime Temple's goal keeper Lizzy Millen made a save on a shot by Meghan Plank. Gunter would follow up her counterpart's save with a save of her own after Temple's Amber Youtz tried to score seven minutes into overtime.
At the 79:02 mark in the game, Jessica McCarthy wound up and unleashed a shot that was deflected by Christina Conrad into the net, giving Conrad her fourth goal of the season.
This was a big win for Drexel: not only did it stop a two game losing streak but it also puts the Dragons over .500 on the season at 4-3. Although this team has not yet reached its offensive potential, the defense for the Dragons has proven it can win games.
"We have a very experienced team, whose intense work ethic contributes to our strong defensive performances," coach Denise Zelenak said. It is obvious the team plays with incredible heart and passion on defense.
At the head of that defense is Gunter, who was practically a brick wall in front of the Dragons' net.
Gunter received Colonial Athletic Association player of the week honors after her performance against the Owls, and it's well-deserved. She ended the game with eight saves and recorded the 12th shutout of her career.
Drexel will finally come back home to Buckley Field and play a three game home stand, the first game being Sept. 26 against Rider University.