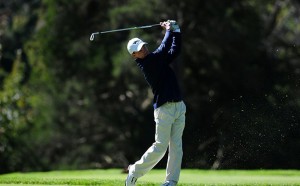 Playing golf is contingent on the ability to take a loss and move on. The Drexel golf team is showing its resilience week in and week out, improving over time and patiently waiting for its opening, and it did so again Oct. 11-12.
The Dragons shot a first-round score of 306, but ran off a second-round tally of 289 to finish third overall out of 14 teams at the Temple Invitational at the par-70 Philmont Country Club in Huntingdon Valley, Pennsylvania.
The excellent second round wasn't enough to close the gap; the team finished five strokes behind runner-up Hartford University and 23 strokes behind tournament champion Temple University. The 289 was the second-lowest team score in the second round, behind Temple's 285.
Even though the Dragons have yet to win a tournament this season, head coach Mike Dynda said he was pleased with the way the team played in the second round Oct. 12, and on the whole over the weekend.
"We were happy with the second round," Dynda said. "We had the second-lowest score [of] the day. Temple had a little home course advantage, obviously, so it was nice to have second-best score.
"[I'm] always happy when the team gets better the second day, especially the final nine on that round, where we were one-under as a team. That's impressive."
The third-place finish was the Dragons' third Top 5 finish of the season in just four outings since early September.
Junior Andrew Feldman made his season debut, carding a two-round 160, including a second-round 76, the lowest round of his Drexel career. Feldman hadn't played for the Dragons since April 7 at last season's Lafayette Invitational. Last season Feldman averaged 81.6 per round, shooting a pair of 78s.
Dynda had said previously that he was looking to get Feldman some playing time in coming invitationals, and said this week he was pleased with the way the junior played in his return to action for the Dragons.
"Andrew is always a grinder, and will give the team his all and never give up," the head coach said.
Junior Chris Crawford continued his excellent season, finishing third overall for the second time this year. Crawford notched a first-round score of 72 and was on the outside looking in at 10th place. But the master of consistency returned with an improved second-round 71, vaulting himself to third by remaining steady as eight of the top 10 slipped behind him.
Crawford has now finished seventh, third, second and third in the Dragons' four tournaments this season. He has yet to card a round above 74.
Though the junior has yet to finish off a tournament with an individual victory, Dynda said he continues to have faith in Crawford's skill level.
Dynda believes Crawford's time will come. As with everything in the sport, it's all about patience.
"Chris is really maturing as a player," Dynda explained. "He understands that there is a roller coaster effect with golf, and you have to take the good with the bad and wait for your runs the way basketball teams go on runs. Bide your time, and wait for your run. Chris will soon, and even if he doesn't, he's still getting better every day and that's what we like."
Just behind Crawford was freshman Adam Mistretta, who overcame two tough outings at the Cornell and Patriot Invitationals to finish tied for sixth at Temple.
Mistretta shot a pair of 73-stroke rounds, exhibiting notable consistency and composure for such a young player trying to regain his rhythm.
Dynda said he's extremely happy with what he's seen from the California native in just four outings this season. He was left grasping for words to describe how impressed he was with the freshman's performance.
"Adam is a solid player, and only a freshman," Dynda said of Mistretta. "And again, golf is a roller coaster. He had a little struggle last event at George Mason [University]. Then this week we had some good practice, prepared for Philmont's greens appropriately, Adam was just …"
He paused.
"The kid is good and only getting better."
Sophomore Yoseph Dance shot a two-day total of 158. After a tough first round in which he shot 84, Dance regrouped and carded a 74, which is tied for his second-lowest round of his career. It was the sophomore's biggest round-to-round turnaround in his career, and afterwards Dynda lauded the sophomore's never-give-up approach.
"The kid never gives up," Dynda said.
Freshman Avery Schneider finished tied for 14th, two strokes behind Mistretta with a 148 two-round total. It was Schneider's second-highest finish of the season.
The Dragons will look to keep the putts rolling this weekend as they travel to Powell's Point, North Carolina, for the Old Dominion University Invitational.