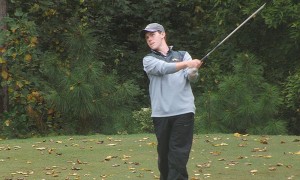 Coming off of a disappointing twelfth place finish at the Wolfpack Intercollegiate in Raleigh, North Carolina, the Drexel University men's golf team entered this week determined to give a better performance. They were able to do just that.
The team stayed near Rockville Maryland Oct. 18 and 19 to compete in the Maryland Terrapin Invitational at Maryland University. The tournament was originally intended to be 54 holes, but the first round was cancelled due to frost, leaving only 36 holes were played.
The Dragons got off to a shaky start on Monday. In a field of 11 teams, Drexel finished the first round of the tournament positioned in eighth place with a total of 305 strokes. To their credit, the Dragons did not let their slow start deter them. They came out on Tuesday on a roll and as a team shot a combined 297 throughout the second round. The Dragons were one of only three teams to shoot below a 300 on Tuesday. Their second round score was the third lowest team score on the day, and helped the team jump from eighth to fourth place by the end of the tournament.
Drexel strongest performers were senior Chris Crawford and freshman Michael Cook, who played well both days of the tournament. On the par 72 course at Woodmont Country Club, Crawford and Cook had identical first round scores of 73. They followed up their solid first rounds by shooting a 74 and a 75 respectively in the second round. Crawford finished three shots above par, which was good enough to earn him a five-way tie for seventh place in the individual rankings. This was Crawford's third top-ten finish this fall in four tournaments. He also finished tied for the tournament lead of birdies with eight. Cook finished with a 75, just one stroke behind Crawford, and ended the tournament tied with five others for the twelfth lowest individual score. Cook benefited greatly from his ability to consistently save par. He sunk 22 pars in 36 holes, the eighth most by an individual at the tournament.
Crawford and Cook's consistent play helped set the tone for the Dragons, but the turn around on the second day was the result of an overall team improvement. Sophomore Adam Fricke, junior Yoseph Dance and sophomore Adam Mistretta had first round scores of 81, 80 and 79, respectively. However, all three of them were able to improve their scores in the second round. On Tuesday, Fricke shot a 77, Dance shot a 75 and Mistretta shot a team low 73.
The Dragon's may not have finished in first place, but there was certainly a great deal of progress made this week, especially between the first and second round they played. Drexel will look to keep the momentum they gained this past Tuesday when they visit Powells Point, North Carolina Oct. 26 and 27 to participate in the ODU/OBX Intercollegiate.