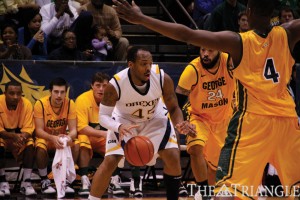 On the front page of the Drexel University Dragons' website, there is a new YouTube video. The two-minute compilation encompasses the wide variety of athletes and teams that make up the athletic program with a central message: "I am a Dragon."
It is a video geared toward incoming students, alumni and current students, meant to give them an idea of how passionate this school is and how much pride is involved in its athletic program. No two players this year emulated this more than Paige Collings and Samme Givens.
At the Best of the Blue and Gold Banquet May 31, Collings of the softball team and Givens of the men's basketball team were recognized as recipients of the 2012 John and Mary Semanik Award, which is given to the top male and female senior athletes.
As a player who was named to the All-Colonial Athletic Association Team in all four years of her collegiate career, it is the icing on the cake for Collings to win the Semanik Award and finish up a great career as a Dragon.
"It is a great honor to be the recipient of the Mary Semanik Award," Collings said. "There are so many talented, smart and accomplished female athletes at Drexel, I am surprised my name was even brought up."
Of course, Collings is just being modest. In her final season on the softball team, she went 48-150 for a .320 average with 23 runs and a school-record 41 RBIs while starting all 48 games behind the plate for the Dragons. She had 20 extra-base hits, including eight home runs, which put her career total at 28, a school record.
"It is easiest to remember a player by their stats, but I think there is more to the game than that," Collings said. "When people remember me, I hope it is for my work ethic."
Coming into Drexel as a utility player, Collings made a big splash as a freshman. She went 42-126 for a .333 average and was named to the CAA All-Rookie Team. However, she still had work to do in order to stabilize herself at catcher, one of the most important positions on the diamond.
"As a freshman I was really nervous, and I did not really have confidence in myself," Collings recalled. "By the nature of my position, I grew into a leadership role that I am now very comfortable with."
Collings made history as a sophomore, setting a Drexel single-season record with eight home runs to go along with 28 RBIs, 83 total bases and a career-best .338 average on 51-151 hitting. She bettered that mark in her junior year when he smashed nine home runs and cemented herself as a premier player in the CAA.
However, Collings gives warning to any player looking to focus on racking up numbers.
"I hope the younger players will try to not be overly concerned with their stats but try to be more internally motivated toward working hard to achieve their own goals," Collings said.
After graduating this spring with a degree in biology, Collings plans to take some time off to travel and volunteer. She is considering attending medical school but has not made a final decision yet.
The co-recipient of the award also happens to be the first person you see in the "I am a Dragon" YouTube video: Samme Givens. The undersized forward with an oversized will to win and to get the rebound no matter what was the lone senior on the men's basketball team. He went 29-7 overall (16-2 CAA) this season.
Givens finished his career at Drexel 18th in scoring with 1,226 points and third in rebounding, only behind legends Malik Rose and Bob Stephens, with 1,059 boards.
In his junior season, Givens was the only player in the CAA to average a double-double, posting averages of 12.2 points and 10.1 rebounds per game. He was named to the All-CAA Second Team in his final two seasons at Drexel.
"If we only lose one guy, we had a hell of a guy to lose," head coach Bruiser Flint said. "It's not just because Samme gave me a lot of points and rebounds; it's because he was a pleasure to coach."
This season the basketball team won 23 of its last 24 regular-season games to win the CAA regular-season title. After winning their first two games in the CAA Tournament, the Dragons' streak reached a whopping 19 consecutive wins.
"This past summer, everybody was getting in the gym early, and their games would pick up," Givens said. "You knew this year was going to be a particularly good year, and that's what you want for your senior year."
Unfortunately, Drexel lost to Virginia Commonwealth University in the CAA championship game and narrowly missed out on an NCAA Tournament bid. The Dragons then won two games in the National Invitation Tournament before falling to the University of Massachusetts in the quarterfinals.
Givens was the unquestioned leader of the team, showcasing extraordinary grit, heart and skill on every possession. He started all 36 games for the Dragons while averaging 11.6 points and 7.9 rebounds per game and helping the team to earn its first regular-season CAA title in history.
"As a person, Samme is one of the best kids I've ever been around," Flint said. "His stats will speak for himself, but as a person, as a kid, he's been unbelievable — unbelievable."
The final shot of the YouTube video is also of Givens, who says: "I am more than an athlete; I am a Dragon." To the Drexel community he is more than a Dragon; he is a legend.