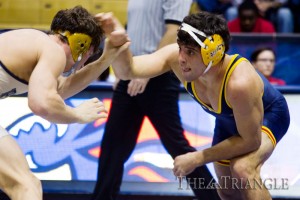 The Drexel wrestling team competed in the Virginia Duals Jan. 13, taking only one of the three matches it had. Drexel defeated Bucknell University for its only win but fell to Edinboro and Rider Universities.
As the afternoon progressed, the Dragons' results got better. The day started with the squad losing to Edinboro 30-6. Kyle Frey and No. 18 Joe Booth were the only winners from Drexel, as they were dominated the rest of the match by the now 21st-ranked team in the nation.
Their next matchup against Rider saw a much closer decision that featured back-and-forth lead changes. After Rider took the first two matches, Drexel battled back to lead by two points with four matches to go after Booth won a 7-1 decision in the 165-pound class. Rider would then win back-to-back bonus-point matches immediately following that, as they ultimately won the close affair 19-18.
Finally, to complete the slope of results for the Dragons, they defeated Bucknell 20-17. The match saw Paul Wampler in the 133-pound class pick up his first career win as Drexel did well early, but they soon fell behind Bucknell 17-10. It would take a sweep of the final three matches to give Drexel the come-from-behind victory to salvage the Dragons' afternoon.
Although there were better results as the day moved along, head coach Matt Azevedo and the team did not make any adjustments.
"We didn't change much from match to match," Azevedo said. "The difference was [that] we were able to win the matches we were supposed to win, and we got bonus points."
Among the Dragons who were able to win the matches they were supposed to win were Frey and Booth. The duo outscored their opponents by a combined margin of 39-10 as they each went a perfect 3-0 in their matches. Both Frey and Booth remain undefeated in duals at 9-0 and 3-0, respectively.
Booth, who was named Colonial Athletic Association Wrestler of the Week the week prior, passed the honor along to his teammate. It was Frey this week who was named Co-Wrestler of the Week by the CAA for competition spanning from Jan. 10-16. Frey shares the Co-Wrestler title this week with Tristan Warner of Old Dominion University.
Joining Frey and Booth with solid weekends were Brandon Palik and Frank Cimato. Both Palik, wrestling in the 197-pound weight class, and Cimato, in the 141-pound class, went 2-1.
"Booth and Frey both wrestled very well last weekend," Azevdo said. "We also had good performances out of Brandon Palik."
If Drexel is to have a third consecutive Dragon named CAA Player of the Week, they would have to put up a strong week against their next set of opponents. Looking ahead to next week, Drexel will head south to Fairfax, Va. for the CAA Duals, which take place Jan. 21. They will look to avenge a sweep they suffered there last season, losing to both Binghamton University and Old Dominion.
The schedule then has them squaring off against Army when they return to the Daskalakis Athletic Center Jan. 24. Like Drexel, Army has had a similarly inconsistent season and holds a record of 3-5. They will be competing in the New York State Championships, a two-day event the weekend before facing Drexel.
Bonus points can be the deciding factor in this one. It sets up as a competitive dual considering the two teams, but it is the coaching matchup that may add some additional weight, more than usual to the competitive nature. Joe Heskett, who is Azevedo's former college roommate at Iowa State University, coaches Army. The two also spent four years coaching together at California Polytechnic State University.
"We are very good friends," Azevedo said. "It should be a very competitive dual."
The Dragons will also be honoring local veterans at the dual that night, in what is their first home match since Dec. 18. Their match with Army is their final one for the month of January. They will then take a Super Bowl-like two-week break and returning to action the first weekend of February.