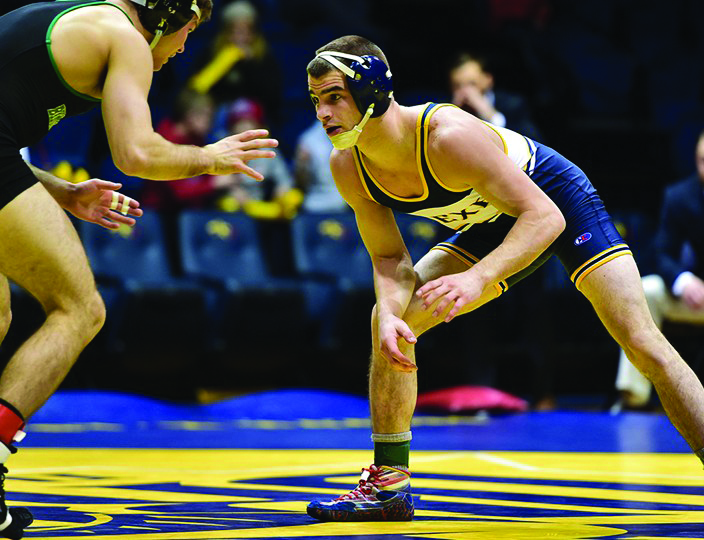 The Drexel University wrestling team took to the mat in Philadelphia Nov. 20 for the Keystone Classic. It's always a fun event where the Dragons can compete against formidable opponents from different schools. The Dragons had a great showing in the competition as five wrestlers placed in the top five of their respective weight classes.
In the 125-pound weight class junior Zack Fuentes began his day with a 5-4 decision win against his Eastern Michigan University opponent. Fuentes then went on to win another 5-4 decision against an opponent from University of Pittsburgh.
His toughest task came against No. 6 Nick Suriano from The Pennsylvania State University. Fuentes fought hard but lost the decision 4-2. He was able to bounce back and beat his next opponent, but lost his final match against another Pittsburgh wrestler. Fuentes ended the day in fourth place for the 125-pound division.
In the 133-pound weight class class senior Kevin Devoy Jr. beat his first opponent by way of a fall. He then came right back and beat No. 9 Jered Cortez from Penn State in a tough 5-4 decision. In his final match Devoy again went up against a tough ranked opponent.
Dom Forys was ranked No. 8 and defeated Devoy in a 8-3 decision. Even with this loss, Devoy received a well-deserved second place in the 133-pound division.
In the 165-pound weight class junior Austin Rose fought in some tough matches. His first match we won by way of a fall, and he won his second match with a 5-1 decision.
He lost against No. 12 Vincenzo Joseph of Penn State in a tough matchup but came back to win his next three matchups, one of which was against No. 17 Forrest Przybysz out of Appalachian State University. Rose lost his final match against No. 5 Chad Walsh of Rider University do to a forfeit.
Rose ended the day with a fourth place finish in the 165-pound weight class.
In the 184-pound division junior Alex DeCiantis won his first two matches by way of a 7-6 decision against Van Cura of Penn State and a 4-3 decision against Mike Fagg-Daves from Rider. DeCiantis lost his next match in a 6-0 decision against Northwestern University's Mitch Sliga.
He would then come back to win his final two matches beating Kayne MacCallum from Eastern Michigan and again beating Mike Fagg-Daves. With his stellar wrestling, DeCiantis earned third place in the 184-pound weight class.
For the 285-pound weight class division junior Joey Goodhart won his first two matches against Conan Jennings of Northwestern and Cary Miller of Appalachian State.
He then lost to No. 9 Nick Nevills from Penn State in a 9-1 majority decision. Goodhart came right back to beat two more opponents en route to a solid third-place finish.
With this solid wrestling displayed by Drexel, the Dragons were able to secure a fifth-place standing out of 12 schools. Drexel will wrestle again Dec. 3 in the Nebraska Duals. Three matches will take place in Lincoln.