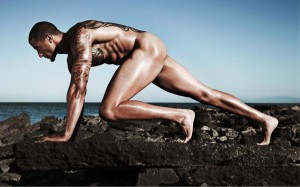 Gary Player is one of the greatest golfers ever to play the game. He accumulated 25 career wins on the PGA Tour, including nine major championships that tie him for fourth all-time with the legendary Ben Hogan.
In 2012, Player earned the PGA Tour Lifetime Achievement Award, becoming the 10th individual to receive such an honor. Now, at the age of 77, Player designs golf courses all around the world and … poses for ESPN The Magazine in the nude?!
For the fifth consecutive year, ESPN The Magazine has produced its Body Issue, which is an annual look at athletes and their bodies in the nude. The premiere issue featured boxer Manny Pacquiao, running back Adrian Peterson and tennis star Serena Williams. This time around there is the aforementioned Player, baseball outfielder Giancarlo Stanton, boxer Marlen Esparza and many others.
Of course, private parts are not shown in the issue, as the photographers ensure that they are covered up with arms, hands or items; for example, starting pitcher Matt Harvey poses with his orange baseball glove covering his private area. As a sports fan, it is truly breathtaking to see athletes and their intricate muscles at work.
In the 2013 issue, there are more creative photo poses than in years past. For example, Elena Hight is shown snowboarding down a mountain in the nude and, later, eating a hamburger next to a grill at the bottom of the slope.
Motocross racer Tarah Geiger, pictured doing jumps on a dirt track, admitted that riding her bike nude was not something she had ever done before. "There's a lot of stuff to remember. … [I was] just trying to not crash without a helmet on or anything else on," she said.
Perhaps some of the most stunning photos are of the male athletes in the issue. Stanton, listed at 6 feet 6 inches in height and 250 pounds, is pictured jumping with water splashing his private area. It is unbelievable to see the sheer size of his body, which surely has helped him to blast 100 home runs over his first 420 games in Major League Baseball.
Two San Francisco 49ers, quarterback Colin Kaepernick and tight end — no pun intended — Vernon Davis, probably have the most chiseled features of them all. Kaepernick's entire upper body, which has to hover around zero percent body fat, is covered entirely in tattoos with prominent six-pack abs. Meanwhile, Davis' pectorals and lat muscles are truly jaw-dropping.
"The body is art," Davis said. "I just think back [to] when I was in college when I was an art studio major. … We would have models come through, and we would have to draw them."
That sounds cool and all, but why do the athletes really do it?
Most likely because they have rockin' hot bodies and want to show them off, but there are also other reasons. ESPN undoubtedly pays a hefty sum to any athlete willing to pose nude in its premier issue of the year. Superficial reasons aside, some of these athletes did it for their own self-esteem, whether it was high or low, and some did it with hopes of inspiring fans to strive to be physically fit.
For example, Davis explained the primary reason for his involvement. "It represents being healthy. … When people see this issue, maybe I can inspire them to go and work out and eat right and things like that," he said.
Possibly the most inspirational model for the Body Issue was volleyball player Kerri Walsh Jennings, who posed while nine months pregnant and then again two months after giving birth to give a side-by-side comparison of her body's true transformation.
"I hope people find inspiration. People can look at me and say, 'Oh, you can get your body back at some point after postpartum,'" Walsh Jennings explained. "When people see me pregnant and then post pregnancy, I just hope they realize how much power there is in the female form."
Some athletes were exceedingly confident, like basketball power forward Kenneth Faried, who struck a dunk pose in midair and is also pictured dribbling a basketball, both with his dreadlocks flailing behind him.
"Just to pose naked is basically to me like taking a shower," Faried said. "I know I have a great body. I work it out, I eat right, and I do the little things I need to do to make sure my body stays in great shape. … I really do believe I'm a handsome young man."
Female soccer player Sydney Leroux also felt very comfortable with her body and how her life experience had shaped it into something she felt like she should show off.
"My body is something to celebrate, and our bodies are something to celebrate," she said. "It's been through a lot, and it's been a lot of places. It's traveled the world and it's been beat up. It's felt good and it's felt bad. It's been a crazy ride with this body I have."
Player was undoubtedly the most confident, as a senior citizen holding a golf swing pose in the nude. As the first professional golfer to lift weights and adopt a constant workout regimen 60 years ago, it was important to him to be able to show the world that he is still a fit individual and worthy of his nickname of "Mr. Fitness."
"I'll show you what I can do with my body at 77, and very few people in the world can do that," Player said. "I see [current golfers] working out, and I walk in the gym with great joy. … I definitely played a role in this, and it makes me feel good."
A worry that someone may have when nude in front of a camera — not that I would know is how one's parents will react. For athletes in the Body Issue, there were mixed emotions. Harvey said his first thoughts were "What would my dad think?" and "What would my mom think?" while Leroux claimed her mom "was more excited than I was."
As cool as it is to see this type of athleticism once per year, ESPN's reason for producing the Body Issue is not as innocent as it seems. Sex sells, plain and simple. Back in 2009, the Magazine was struggling to compete with Sports Illustrated, the most famous publication in the genre, and its annual Swimsuit Issue.
By creating the Body Issue, ESPN brought a new and more socially acceptable reason to look at near-naked people in a magazine not named Playboy or Hustler. According to Darren Rovell, formerly of CNBC, the 2009 Body Issue sold 35 percent more advertisements than the issue a year before and sold two times the amount of an ordinary issue of the Magazine.
"It's not my style, but I saw the issues and I saw the website and it wasn't raunchy," Esparza explained. "Being an athlete is kind of like when I do my Cover Girl commercial. It was like, 'Oh, girls can be pretty and they can box at the same time.'"
Even though the primary reasoning for creating an annual issue such as this is to make money, it really does seem that ESPN has an honorable focus for the Body Issue. It is difficult to make seminude photos appealing to the general public in a tasteful way, and some publications, such as Sports Illustrated, do not even try. I am sure that athletes in such a vulnerable situation appreciate not being used completely as eye candy.