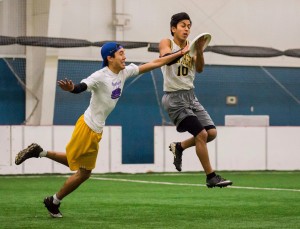 When Nick Patel competed in his first tournament on the Drexel Ultimate Frisbee team, he wanted to make a name for himself, being a freshman playing among a senior-laden group. But with another player on the team named "Nick," things got a bit confusing out on the field.
So, to tell him apart from the other kid when giving verbal direction, Patel's teammates starting calling him "Red Mist," a reference to the t-shirt he was wearing of the character of the same name from the movie "Kick-Ass."
"They just started calling me that to make it easier on them, and I liked it," Patel recalled. "I tried to make it stick and [now] whenever I meet new players I'm like, 'Yeah, I'm Red Mist, what's up?'"
Now three years later, Patel has certainly made a name for himself as Drexel Ultimate's co-captain, and just recently in the American Ultimate Disc League, as he was named to the roster of the Philadelphia Phoenix following a successful open tryout with the professional team.
Patel first got started playing ultimate the summer between graduating high school and coming to Drexel, when friends who were already college students came back home with a new game to play. He was already set to attend Drexel in the fall, so he contacted the coach via email, who never responded. Luckily, Patel was able to attend the club sports fair during his first week on campus, and promptly signed his name on the ultimate team's list.
One of the other young players that year was Mathieu Savarit-Cosenza — known more commonly as "Frenchie" — who is currently Drexel Ultimate's other co-captain. Both players are primarily "handlers" — a position that Patel compares to a football quarterback or a basketball point guard — and are the ones springing passes to the "cutters," who run routes down the field. A seven-man ultimate lineup is usually composed of three handlers and four cutters playing at one time.
"[Savarit-Cosenza] has been playing for a lot longer than I have; he played all throughout high school," Patel said. "He has a lot more experience, but as soon as I got started, I made the most of it and [have] played year-round pretty much up until this point."
Patel has been able to play year-round on the Drexel ultimate team, which runs pretty much during the school year, and on a club team that fills in the downtime during the summer months. The club league culminates in regional and national tournaments in the beginning of fall, which then leads right into college play, essentially completing the cycle.
Throughout the years, Red Mist and Frenchie have built a relationship from their play on the field that has extended off of it as well. That relationship is what ultimately opened the door for Patel to try out for the Phoenix along with his friend and teammate.
"They have tryouts every cycle and I really wasn't planning on going to it because you have to pay $40," Patel said. "But even if I made it I probably couldn't play because I'm on the Drexel team, I have co-op, and my plate is pretty full."
But when Savarit-Cosenza told Patel that he was going to try out because his former high school coach was currently on the Phoenix's staff, Patel was convinced. Coincidentally, Patel had been previously introduced to the coach while hanging out at one of Savarit-Cosenza's barbecues this past summer.
"[The coach] was a cool dude and I thought I would love to play for him, so I figured I would go ahead and try out," Patel said. "We went to that; it was exhausting because everyone's playing their best, and everyone's running on adrenaline."
Out of about 80 people who came to the first try out Jan. 18, Patel and Savarit-Cosenza were among the collection of players who got called back for a second look. Two weeks later, they went back for the second round, but after that time, there was a tense waiting period to see if they got the call.
So this past weekend, Patel got a call from the general manager of the Phoenix, who officially offered him a roster spot. Meanwhile, Savarit-Cosenza was named to the practice team.
Although Patel will get no multi-million dollar signing bonus — or a signing bonus of any kind — the Phoenix do cover all of the costs for their players, which ends up being a lot of money during a season on the club team. Between travel costs, hotel reservations, three meals per day and more, a weekend away from home competing in a tournament can run over $100 per person.
"They're finalizing the roster within the next few weeks, so I was lucky enough to get offered an early spot," Patel said. "I was initially torn because this is a professional league and I would have to fully commit to it."
For the time being, Patel is committed to Drexel Ultimate's spring season, which will get underway with the annual Hellfish Bonanza Feb. 15 at James Madison University, weather permitting.
As usual, the team will be playing multiple games each day — each of which can last up to 90 minutes — and one of the obstacles Drexel faces as it compares to the higher-ranked ultimate teams is depth. When teams have solid players up and down their entire roster, it allows their top performers, like Patel and Savarit-Cosenza, to sub out of the game more often and stay fresh.
"You need to have a deep roster to be able to keep your competitive level of play up," Patel said. "We play really hard with the team that we have. We might not be making nationals, but still play our best and still have a blast."
Not only will this weekend be Drexel's first tournament since the fall, it is also a crucial time because one player on the team still doesn't have a nickname, something Patel hopes will happen down in Harrisonburg, Va. However, the origin of a nickname isn't so cut and dry, and not everyone is as lucky as Red Mist or Frenchie. Some other nicknames on the team include "Snowball," "Jar-Jar" and "Johnny Roast Beef."
But probably the coolest nickname of them all is what the Drexel's actual ultimate team is called. Since the sport isn't recognized as varsity on the collegiate landscape, most teams have a different nickname than the one used by the school, but still related to something for which they are known. For instance, the University of Arizona is known as "Sunburn" rather than the "Wildcats."
In Drexel's case, the ultimate team is known as "Spitfire" rather than the "Dragons."
Hopefully with the leadership of Nick "Red Mist" Patel and Mathieu "Frenchie" Savarit-Cosenza, they will be able to live up to their team nickname and burn their opponents on the field sooner rather than later.