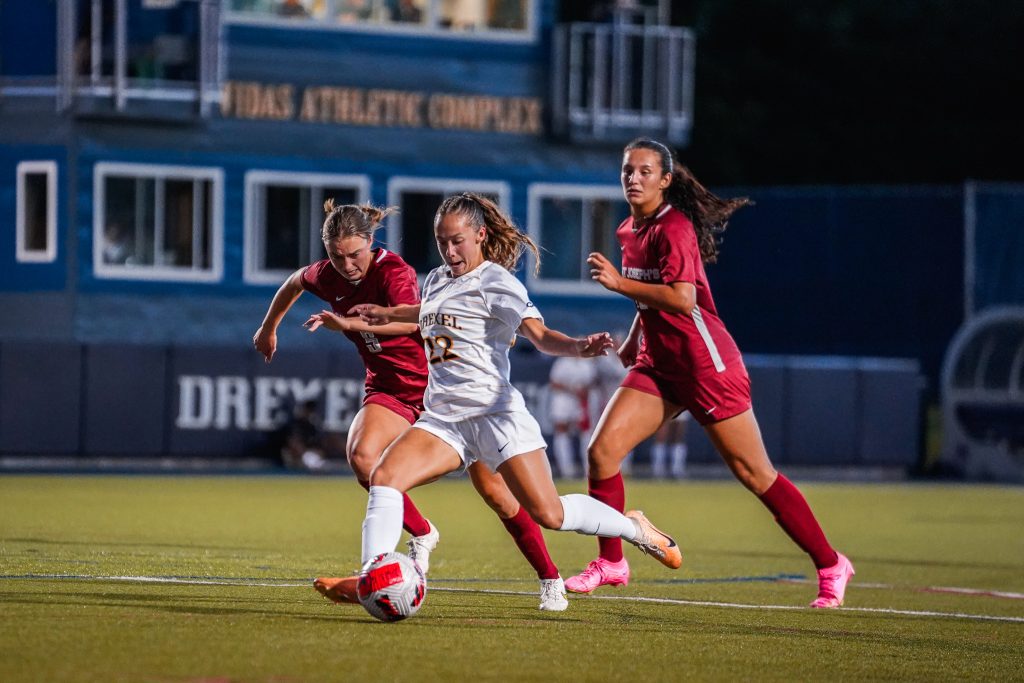 Vidas Athletic Complex remains an unpleasant place for away teams to compete against Drexel's athletes. After wins against Fordham 3-0 and UMBC 2-0, Drexel's Women's Soccer team also won their third home game against Philadelphia University Saint Joseph's 3-0.
From the first minute on Drexel dominated the game and came to big chances early in the game. Multiple times Drexel forced Saint Joseph's goalkeeper Katie Cappelletti to make important saves. Saint Joseph's seemed to be overwhelmed by Drexel's intense pressing playing style that led to early turnovers in the game.
The ball barely found its way into the Dragon's 18-yard box. Compared to Cappelletti, Drexel starting goalkeeper Joelle Chase experienced a calm evening.
After 14 minutes Drexel forward Annalena O'Reilly redeemed Drexel and scored the first goal after a perfect cross from Delaney Lappin. Thanks to Saint Joseph's Cappelletti who showed a massive performance, the Hawks kept their hopes alive as they finished the first half 0-1. In the second half Drexel remained the better team.
After 60 minutes the referee pointed to the penalty spot after a handball inside Saint Joseph's 18-yard box. Lappin showed no nerves and scored the second goal of the night. A few moments later Casey Touey topped off a great Drexel performance by scoring the third goal. She cooked a defender and perfectly finished in front of goalkeeper Cappelletti.
Drexel not only won the Philadelphia Derby against Saint Joseph's but also started perfectly into the new season. Except for the loss at University of Pittsburgh, Drexel won all their games so far this season. When home, they seem to be incredibly strong. In all of their games, they scored at least two goals without conceding once.
Drexel is heading to Quinnipiac and Lowell to compete in their next two away games. They will return to Vidas on Sept. 7 to face University William & Mary in their first CAA game of the season.