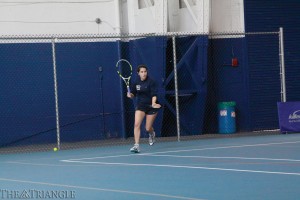 The men's tennis team traveled to Lehigh University to play in the Lehigh Invitational Oct. 5-6. Separately, the women's team visited Rider University for a team match against the Broncs. There were lots of solid wins for both teams, which will fuel the Dragons as they prepare for the ITA Northeast Regionals at Harvard University, set to begin Oct. 17.
Along with the Drexel men's tennis team, participating schools in the Lehigh Invitational included the University of Delaware, Temple University, Bucknell University and Loyola University Maryland. The competition was fierce, but the Dragons pulled through with some big victories.
"Going to Lehigh, we were expecting to win as many matches as possible in both singles and doubles," head coach Mehdi Rhazali said of the team's expectations. "We won 13 singles and lost 11. In doubles we won six matches and lost two. Coming back with a winning record definitely gives us a lot of confidence and helps us prepare for ITAs."
On the first day of the invitational, the Dragons faced Loyola and Delaware in singles play as well as Temple and Bucknell in doubles. The Dragons won seven out of nine singles matches against Loyola with No. 1 player Badr Ouabdelmoumen defeating his opponent 6-4, 6-3. Also at singles, Skyler Davis won 6-1, 6-2 and fellow teammate Alex Fioravante won 6-1, 6-3, while Dan Koehler faced a tough 6-7, 4-6 loss.
Finishing up singles play, Xabier Saavedra, Tyler Pultro, Paul Stauskas and Daniel Hansen pummeled their competition. At doubles, the Dragons went 2 for 2. Pulling out those two wins were Davis and Koehler, who beat Temple 8-3, and Saavedra and Fioravante, who took down Bucknell 8-6.
"In singles versus Delaware we tied 4-4," Rhazali said. He then commented on a different strategy he used against the Blue Hens. "I decided to change my lineup around and challenge some players at higher positions. We still managed to win four out of eight matches."
In the second round of singles, Drexel went 4 for 7. After three straight losses, Davis pulled out a 1-6, 6-1, 10-6 victory. From there, the wins kept coming in, as Saavedra defeated his opponent 6-4, 6-7, 10-7 and Stauskas took down Delaware 7-5, 6-3.
During day 2 of the Invitational, the Dragons took on Lehigh in singles matches. No. 1 Fioravante won his match 6-3, 4-6, 11-9, while Saavedra beat his opponent 7-6, 6-3. The final win for the Dragons came from Hansen in a 6-0, 6-3 match. Over in doubles, there was major success when the Dragons went undefeated in four matches.
"Lehigh presented us with our toughest match. We had our No. 1 Badr, No. 2 Skyler and No. 6 Tyler all sitting out due to injuries. I was very impressed when Alex brought home the No. 1 win," Rhazali said. "Other matches were competitive as well, and we did our best and fought hard, and that's what the weekend was about. Right now, we are … making sure that we are fresh [for] the ITAs."
On who he thought has been playing exceptionally well recently, Rhazali singled out Fioravante.
"He has been playing some great tennis [and is] definitely one of the hardest-working players I have seen. He fought hard and was able to win at No. 1 against Lehigh. … He defeated one of the top players in the region, and he needed a win like that to prove he [is] of that caliber as well. I am sure he learned a lot of things from this match, such as maturity and mental toughness."
On the women's side, there were high expectations surrounding the match at Rider, considering the Dragons swept the Broncs 7-0 in their previous matchup last season. Head coach Mehdi Rhazali did not hide his team's confidence as they prepared to face their opponent.
"We were expecting a win at our Rider match. We are usually successful against Rider, and this year we have a solid team, so we were expecting to win at every position," he said. "The fall season is based on individual competition, and we have done a good job at that. We wanted to play a team match in the fall because it will help the freshmen be more prepared for team competition in the spring."
And it played out exactly as Rhazali had hoped. With straight-set victories in singles play and three wins at doubles, Drexel swept Rider 7-0 for the second year in a row.
In singles competition, No.1 Zeynep Mafa defeated her opponent 6-4, 6-2 while teammate Nicole Pivonka took down her opponent 6-0, 6-1. Lea Winkler, Fiorella Coria and Erin Bowsher all had "double bagels," defeating their Rider opponents 6-0, 6-0. No. 6 Alex Bell wrapped up the singles play by beating out Rider's Gina Ellen 6-1, 6-1.
"Going to ITAs next week, we were able to gain a lot of match experience. We have had very tough matches at invitationals against competition such as Richmond, Maryland, Delaware, Army, Villanova, St. Joseph's and Temple," Rhazali said. "Because of strong matches, our mental toughness is much better than last year. Playing Rider definitely tested our attitude and intensity."
One of the best matches of the day went to Mafa, on whom Rhazali commented, "She was able to stay tough throughout the match and play smart until the end."
Over in doubles competition, the No. 1 team of Pivonka and Coria defeated their opponents 8-3. The Dragons' No. 2 doubles team, Bowsher and Winkler, swept their opponents 8-0. Finally, the No. 3 team of Amanda Tilles and Mel Reyes beat their opponents 8-2.