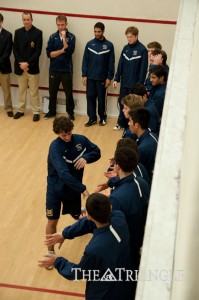 The inaugural season for the Drexel men's and women's squash teams has nearly come to a close. Both teams already competed in their respective postseason tournaments, and each walked away with two wins and a loss.
For the men, that meant defeating the Massachusetts Institute of Technology 8-1 and Johns Hopkins University 8-1 while falling to Georgetown University 4-5 in the Collegiate Squash Association Men's National Team Championships. For the women, that meant beating Vanderbilt University 6-3 and Northeastern University 5-4 while losing to Johns Hopkins University 4-5 in the Howe Cup.
Though team play has concluded, two of Drexel's top squash players will take part in the Collegiate Squash Association Individual National Championships March 2-4, which will be held on the campus of Amherst College.
The Drexel men's team will be represented by sophomore No.1 Justin Singh. Singh has had a fine season, posting a 12-2 overall record, which includes wins over the No.1 men's player for Brown University and other top players across the country.
On the other side of the coin, freshman No.1 Kiran Vasudevan will represent the Drexel women at the tournament. While Vasudevan does not have the same record of success as her male counterpart, she has, according to head coach John White, "improved a lot over the course of the season."
Though this was just the first season White has coached these talented players, he was quick to laud their performances this year.
"They've both played very well this season, which warrants them being in the individual championships," White said. "It will be difficult for both of them, though, as Justin will be going up against not only the No.1's from the B Draw; he will also be going up against the top players from the likes of Harvard and Princeton as well. In addition, Kiran is not ranked, so she will be playing against top competition, the type she has not faced all season."
Singh and Vasudevan will not be in the A Draw because they are not the top 32 in their respective rankings. Nevertheless, White is confident that they will play well in the championships.
Though the Individual Championships are the last action Drexel squash will be involved with for this inaugural season, White is happy with the progress that has been made during the course of the season.
"Things have gone pretty well," White said. "As far as the individual players are concerned, they have realized their place within the larger context of the team as a whole and have improved not just on their own but as a team as well."