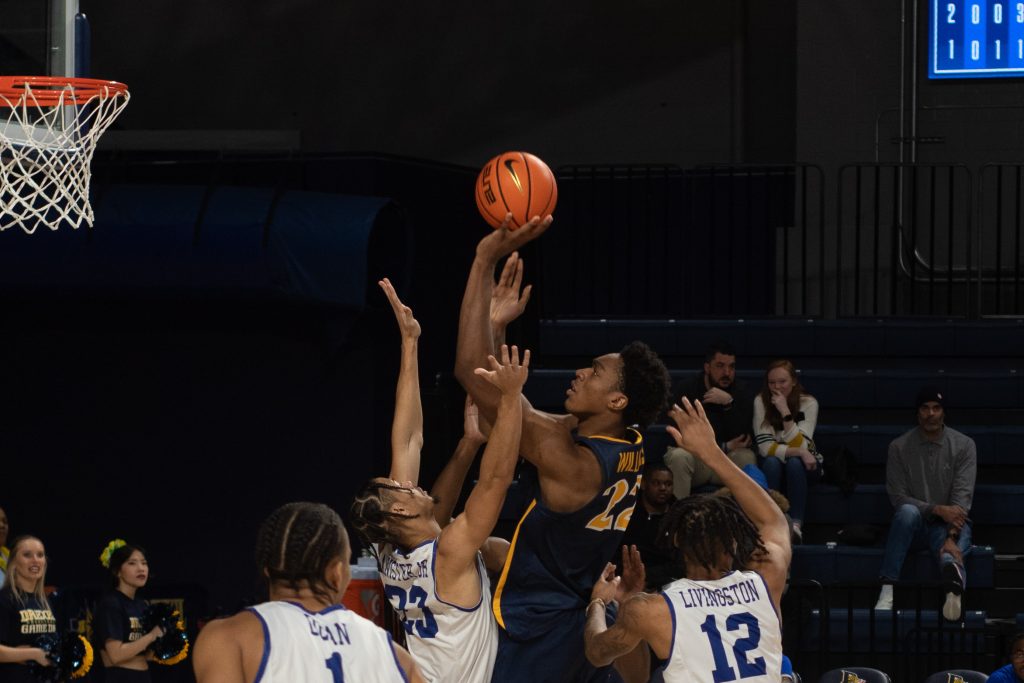 Drexel University students are all too familiar with midterms. Midterms can happen multiple times a term at any given moment, whether that be week three or week eight. Midterms can also be a real blow to the ego. Oftentimes, students are coasting along in a class, feeling pretty good about their grades, until they get their midterm grade back and suddenly they are forced to actually open the overpriced textbook they were assigned to read. Similar feelings are evoked when it comes to evaluating Drexel's men's basketball team at this point in the season.
As the men's basketball team reached the halfway point of conference play, The Triangle was able to sit down with Coach Zach Spiker and give him the opportunity to grade the squad's performance.
"B-. I think that we have another level of execution on both sides of the ball that we need to reach, and also get a radar up for momentum changing plays and 50/50 balls that we need to dominate."
Throughout the season, the Men's team has shown in emphatic fashion the high level they can reach. Drexel beat the College of Charleston on Feb. 2. Charleston, ranked as high as 18th in the nation, has been a dominant force all season. However, the Dragons were able to execute their gameplan in the form of suffocating defense, with standout performances from Amari Williams and Justin Moore en route to a narrow victory.
With such a high caliber win under their belt, one would be justified in believing the sky's the limit for these Dragons, but, primarily it has just added to the head-scratching nature of losses that Drexel sustained further down the road. Drexel's record is blemished with ugly losses to Elon, who, at the time of their victory over Drexel, had not won a single game against a Division I opponent, and Monmouth, who have been competing for last place in the conference all season.
Consistency has been hard to come by for this Drexel team, a lack both frustrating and confounding for many fans. In many ways, though, this team is still just coming together. Since last season, the Dragons lost both a ton of experience and talent, most notably Cam Wynter, the steady, stand out, stud point guard who helped propel the program to much of the success that it has found under Coach Spiker. Many pundits felt that Drexel would have to be overly reliant on inexperienced players, and predicted a finish around seventh in the conference.
"There were a lot of unknowns, and I think we did leave a lot of experience, this is one of the least experienced teams in the CAA (Ranked 297 out of 351, 10th of 13 CAA teams)," Spiker pointed out. "I don't want to make excuses, but from an experience standpoint, whether it's their first or second year, we still have a group of guys who are learning."
A player that the team has had to rely on for much of its success is Amari Williams. The 6'10" center from England burst onto the scene last season when he was thrust into the starting lineup due to an injury to James Butler. Since getting his opportunity, Williams has established himself as not only the best defensive player in the CAA, but also one of the best players in the league overall. He leads the team in scoring, rebounding, blocks, steals and is second on the team in assists. While Coach Spiker recognizes his importance to the team, he also sees more talent left to unveil.
"He's a valuable piece, he's a valuable player. With that said, there's more there. We want him to reach his potential," Spiker said.
Williams' pick-and-roll mate, Justin Moore, has also demonstrated his value to the squad, especially lately. The highly-touted recruit had an inauspicious start to his Drexel career, with many games marred by inefficiency and rookie mistakes. Since the new year, however, Moore has established himself as a driving force of the Drexel offense. Since Dec. 31, the Archbishop Wood product is averaging an impressive 13 points and four assists per game.
"I think he's playing better, I think he's asserting himself more on the offensive side of the ball. He's always been a very good defender, I think he's been a more consistent defender." Coach Spiker analyzed. "He's been a playmaker, he's done a really good job setting up his teammates."
While this season is being characterized as one of growth and transition, one thing that has been a constant is the starting lineup. When the roster is healthy, the starting lineup has only had two permutations. To begin the year, Coach Spiker trotted out a lineup of Moore, Coletrane Washington, Mate Okros, Lamar Oden Jr. and Amari Williams. In mid Dec., Spiker swapped out Okros for Luke House, but that has been the only change not necessitated by an injury.
When asked about what he liked about this combination, Spiker explained that, "I don't know if it's about who starts the game. I think it's more important who finishes it. I think that group has gotten us off to some good starts, but I think we need to focus on defending better and being tougher in the rebounding category. I think we do, however, find our strength in our bench with guys like Jamie Bergens, Garfield Turner, Kobe Magee and Okros. We have a number of guys on our bench who could start on other teams within the league, which just shows our strength in that area."
One consistent struggle that the team has faced so far in the season has been inconsistent three-point shooting. Zach Spiker-coached teams have been known to be full of sharpshooters. While this year also features a roster full of shooters, many of them have not shot consistently from deep. As a team, the Dragons have shot 31 percent from three-point range, the worst such percentage in five years.
"I think you encourage guys to continue getting shots up. I think we have been getting quality looks, and if we keep taking quality shots eventually guys will catch fire." Spiker also added that, "Offense is only one part. I think defense is where we need to hang our hat, and we have done that better this year than any other year before."
Coach Spiker also pointed out that this Drexel team has the best effective field goal percentage in over a decade, an analytic that accounts for the different values of different shots.
Overall, this season has been a memorable one for the Dragons. In a season that is still far from over, the squad has seen many monumental moments.
When asked which moment he has relished the most so far, Spiker stated that, "Homecoming was a great one. I love road wins, beating Northeastern on the road, I loved that."
One of the great things about collegiate sports is that, during games, fans, coaches and players are all making memories at the same time. When students come out en force to games, they bring with them an atmosphere that creates a home court advantage, a fact that is not lost on Coach Spiker. Student attendance, and attendance overall, has been severely increased at basketball games this season, making the DAC an imposing place to play for opposing teams.
"When the students are at the DAC it changes the outcomes of games. Coming to games right now is a great experience and fan engagement is at an all-time high. When the student body is loud and engaged, it makes the DAC one of the toughest places to play in the league. And we need that support and energy for our final home games," Spiker said.
With the season rapidly coming to an end, it is crunch time for the Dragons. With the CAA Tournament scheduled to begin on March 3, the men's team has to quickly find solutions to their deficiencies in order to compete for the Conference Championship. In Coach Spiker's mind, what would a CAA Championship-caliber Dragons' team look like?
"A battle-tested, tough defensive team that can guard anybody, that if you leave them open on offense will make you pay, that is ready for any team, any time of day, any opponent and any challenge," Spiker said.
Time will only tell if the Dragons can find the requisite consistency to finish out the season strong and punch their ticket to the NCAA tournament for the second time in three years. Until then, all fans should make an effort to attend both remaining home games for Men's Basketball on Feb. 16 and 23.