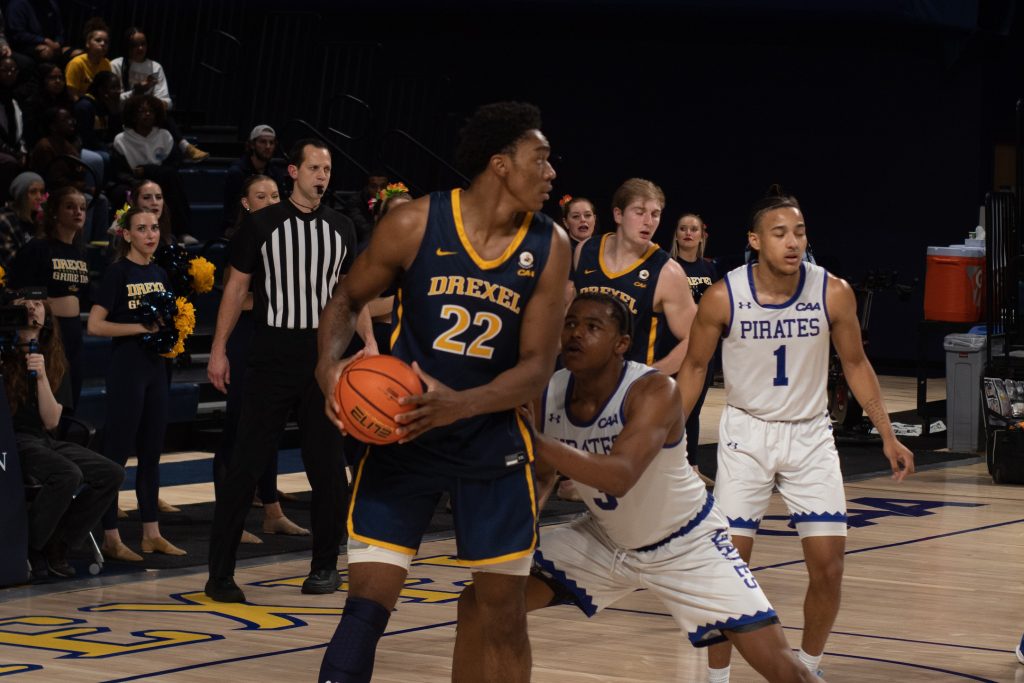 The 2022-2023 Drexel Men's Basketball season was certainly an interesting one. The season featured tremendous highs, cavernous lows, and, ultimately, ended in conference purgatory. The Dragons ended with 17 wins and 15 losses, their best record in a full season since the 2011-2012 season. Finishing with an above .500 win percentage for the second year in a row is also a feat that the Dragons had not accomplished since Barack Obama's first term of the presidency. This achievement was also done despite many pundits not predicting much success for the team in the preseason. The Dragons were rolling out a very young squad, where even the veteran players that had played college basketball before were being asked to play larger roles than they were accustomed to.
Depending on who you talk to, either Drexel overachieved this season or left a lot of untapped potential in the tank. However, according to Coach Zack Spiker, those two outcomes are not mutually exclusive.
"I think the answer could be yes to both of those at the same time. I think we had some missed opportunities throughout the season. If you look at our schedule and study it, our free throw percentage was the difference. A lot of our losses were one possession games," said Spiker.
Free throws were a recurring nightmare in close games for the Dragons. Drexel lost four games by a combined total of seven points. In those four games, Drexel was only able to convert on 49 of their 79 free throws, leaving 30 points that are allegedly "free" on the table. In essence, the Dragons were just seven points away from exceeding 20 wins this season, a benchmark that many use as the qualification of a truly successful college basketball season. 
In some ways, free throw struggles are going to be endemic in a team that is heavily reliant on the nearly seven-foot tall Amari Williams for the bulk of their offense, however, Coach Spiker noted that this is no excuse and each individual player would have to improve on their free throw percentage during the offseason. 
The offseason will be an important one for the Dragons as they seek to capitalize on their upwards trajectory, as well as the fact that some of their biggest competitors in the CAA are losing their best players to the transfer portal or due to exhausted eligibility. This is not the case for Drexel, who do not anticipate losing any players to the transfer portal, and whose sole scholarship opening has been used to sign one of the Philadelphia Catholic League's best players in Horace Simmons. With that kind of stability, Drexel will be able to concentrate all of their attention on improving as a unit and as individuals.  
"I think it's an important offseason for us, I think we got a group that understands what we have coming back and we're just trying to work and get better. It's important that we are all doing what we can to get better, whether it's free throws or any kind of individual work, whatever it may be," said Spiker.
With all said and done, Spiker looks back fondly on many moments throughout the season, especially beating Towson and College of Charleston at home in the DAC.
"My best memories are of the home game atmosphere. The scoreboard, the student body coming out every night," Spiker said. "I just want to encourage everybody to come out and make a difference in the outcome of every single game."
One key theme for Spiker has been consistency, or, perhaps more aptly, consistent improvement. "It's the first time in 18 years that we have had three straight winning seasons. Certainly I think we are bringing a level of consistency to the program. Our defensive numbers have gotten better every year, with this season being the best. I think we have had a steady representation on the CAA All-Rookie team, which means we're bringing in good players, and we've had a lot of consistency with our coaching staff and our players and that's how you become a veteran program."
Spiker hopes to keep the consistency of the program trending upward as the head coach, however, he did recuse himself from making any comments about his contract status moving forward outside of emphasizing his desire to keep growing the Drexel program. 
If Drexel can maintain their upward trajectory with the continued development of key players like Amari Williams and Justin Moore, as well as the infusions of impact recruits such as Horace Simmons and Shane Blakeney, the Dragons could make a name for themselves on the elevated stage they will find themselves on come next season. With the revival of the Big 5, which now features a tournament between Villanova, Drexel, Temple University, La Salle, St. Joseph's University and University of Pennsylvania, Drexel will have the opportunity to demonstrate that they are one of the preeminent squads in the city, something that has statistical backing as the Dragons have the second most wins in Philadelphia since 2020.