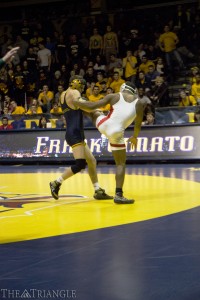 The Drexel wrestling team had a strong showing Feb. 1 at the Daskalakis Athletic Center against conference opponent Boston University. The Dragons headed into the heated matchup coming off one of their most impressive weekends of the season with their performances against Sacred Heart University and at the Messiah Open. They continued their good play by defeating the Terriers 22-12, bringing the team's record to 7-9 overall and 3-2 within the Colonial Athletic Association. The Terriers, meanwhile, fell to a record of 7-5 overall and a mere 1-4 in conference play.
The dual began at 197 with the Terriers being forced to forfeit the match, which gave Brandon Palik the win. The Terriers redeemed themselves in the 285 weight class with an 8-3 decision, bringing the team score to 6-3. At 125, freshman Jacob Goodwin followed the loss with a strong performance, earning a 12-4 major decision over Boston's Bubba McGinley to put the Dragons ahead 10-3.
The Dragons gained momentum in the next few matches. Jordan Hart at 133 and Frank Cimato at 141 earned victories in each of the next two matches to widen the Drexel lead. The Terriers fought back hard, however, taking the next three bouts at 149, 157 and 165. Boston's Nick Tourville, Nestor Taffur and Mitchell Wightman helped put a spark back into their team. With the wins, Boston cut the Drexel lead to only four points, putting the score at 16-12.
Despite the comeback by the Terriers, the Dragons shut the door when it was most important, taking victories in the final two matches. Kevin Matyas had an impressive performance at 174, earning a 6-5 decision in a hard-fought battle against Boston's Kyle Czarnecki. In the final bout of the day, Bryan Sternlieb put the seal on the Dragons' win. In the final seconds of his match, Sternlieb was able to take a 3-2 decision to put his mark on the Drexel victory.
The Dragons have a week of preparation to get ready for their trip to Lancaster, Pa., to take on the Franklin & Marshall College Diplomats Friday, Feb. 8, at 7 p.m.
Franklin & Marshall comes into the match against Drexel with a four-match losing streak. The Dragons will look to feed off their recent momentum heading into the upcoming match and put in another strong performance.