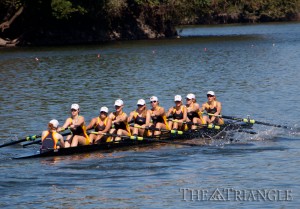 It was a challenging weekend in Boston, Mass. for both Drexel crew teams last weekend, Oct. 22-23. The men's and women's teams participated in the Head of the Charles Regatta against a number of strong crew teams. Going up against the stiff slew of opponents, in addition to being in a relatively unfamiliar Charles River, it truly was a competition for the Dragon squads.
In the men's regatta, the Dragons grabbed 13th place with a time of 15:54.830. The Lois Krall boat, which included coxswain Randall Lee and stroke Kurt Linton, finished faster in the top half of competing teams, as 40 teams rowed down the river. The Williams College Boat Club rowed away with first place with a time of 15:09.568, finishing more than 10 seconds ahead of runner-up University of Virginia.
It was even more of a challenge for the women of Drexel crew. The team struggled to a 31st-place finish in the regatta out of 37 teams. Finishing the 3-mile course with a time of 17:42.97, the Dragon women finished roughly a minute and a half behind UVA, which saw its women's team best its men's second-place finish to take first place at 16:11.519.
Alexandra Paulin coxed the women's eight, which despite its struggles, did have some positives to take away, considering the competition.
"We placed ahead of Navy, who had beaten us at Navy Day a few weeks ago, so that was good," Paulin said. "We were behind Penn a little bit than we had been in the past weeks. Overall, we had a really solid race against extremely fast competition."
The women's, and men's teams will look on getting back ahead of University City rival University of Pennsylvania this weekend at the Head of the Schuylkill Regatta Oct. 29. Fortunately for Drexel, their familiarity of the river they are competing in will return. Last weekend's regatta in Boston was their final road event of the fall. They will row in the Schuylkill for the three remaining regattas of the fall season. There's comfort in that fact for Drexel, although maybe for some of their opponents as well.
"We are more comfortable competing on the Schuylkill," Paulin explained. "The familiarity has a huge impact because my teammates know exactly where they are on the course and how many meters they have left to row. As a coxswain, I have 110-percent faith in my course on the Schuylkill, but you also have to consider that Penn, St. Joseph's, Temple and La Salle all call the Schuylkill home as well."
Regardless of who calls which river home, there is some comfort in knowing the team feels comfortable in their competing venue. It could be the key to a successful regatta.
"The biggest key for our varsity eight boat to have a successful regatta is to have confidence, row as best as we know we can, and hopefully pass some people along the way," Paulin said.
Their confidence can go a long way — hopefully rowing faster than all other teams as they row their long way through the Schuylkill.