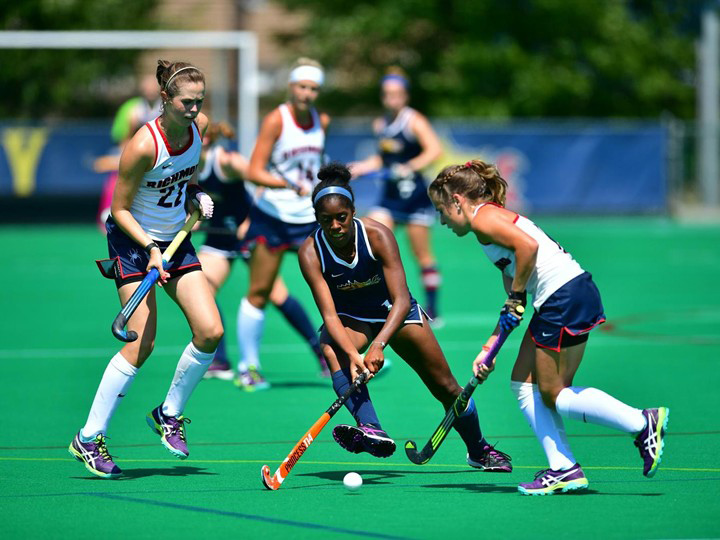 It was a fun and exciting day for the Drexel University field hockey team Oct. 21. Not only did Drexel host Colonial Athletic Association rival Hofstra University, but the Dragons also honored Idrienne Walker and Jessica McCarthy for
Senior Day.
Both players  have given everything to the Dragons over their four years, and it is bittersweet that they will be playing their final few games for Drexel.
Hofstra was a tough matchup, and Senior Day brings extra emotion surrounding the game, which is a double-edged sword. Hofstra entered the game at 9-6 and the Drexel entered in at 6-9. Even though Hofstra sported a better record overall, their conference record was the same as Drexel's at 1-2.
The match started off with good pressure put on by the Drexel offense. Hofstra then came down the field and scored the first goal of the game at the 23:41 mark. Drexel came roaring back about a minute later to tie the game at 1 as senior Idrienne Walker let Hofstra know that she wasn't quite finished yet. She scored her tenth goal of the season to tie the game. Hofstra didn't take much time to rally  and scored a follow-up goal. They took just about two minutes to respond and turn the score to 2-1.
The Dragons took a bit longer to respond, but finally they broke through, as senior Jessica McCarthy tied the game up at 2 with her goal. The half ended with Drexel and Hofstra tied at 2, as McCarthy and Walker made sure Hofstra could not rain on their parade.
The second half started and the action quickly picked up. The Dragons scored their third goal of the game courtesy of junior Alison McCardell's stick, her third of the season. Ten minutes later the Dragons were on the offensive again, and scored their fourth goal of the game. McCarthy stroked in her seventh goal of the season and gave the Dragons a bit more
of a cushion.
Ultimately it was McCarthy's goal that was the game winner. Hofstra came back to score once more to make the game 4-3, but they could not manage to score again for the rest of the game. The Drexel defenders were not going to allow Hofstra the pleasure of ruining Senior Day for McCarthy and Walker.
Both seniors played great games. They played smart and tough, as they have throughout their careers at Drexel. The win put Drexel at a 7-9 record and a 2-2 CAA record.
The Dragons will face Towson University Oct. 28 and No. 9 University of Delaware Oct. 30 for the last two games
of the season.