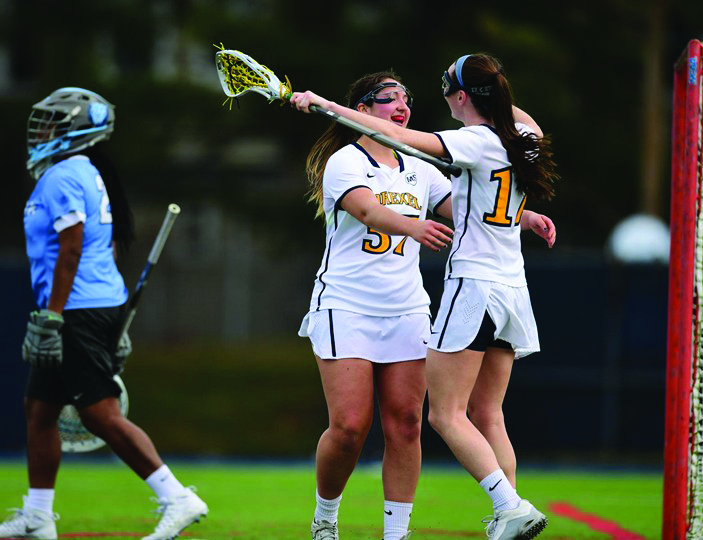 The Drexel University women's lacrosse team had an outstanding home opener victory against the Columbia University Lions Feb. 19 at Vidas Field.
During the opening 20 minutes of the first half, the Dragons commanded the field offensively. Junior Nadia Pelham-Lacey scored the first goal of the game only 1:20 into the first frame. After the Lions scored their first goal to tie the game, the Dragons responded with seven goals.
Seniors Devin Nihill and Caroline Thiele each scored two goals, Pelham-Lacey recorded her second goal of the game, while junior Alex Beilman and graduate student Lisa Rogers closed out the scoring for the Dragons in the first half, bringing the score to 8-1.
In the last few minutes of the first half, the Lions came back to score three goals to end the half with Drexel leading 8-4. With such a strong first frame, the Dragons entered half-time more confident and determined than they were two weeks ago.
The second half played out much like the first. In the first nine minutes, the Dragons scored three more goals to put them even further ahead of the Lions with an 11-4 lead. For the remainder of the game, the Dragons and Lions went back and forth, each scoring goals, winning draw controls and fighting for the win. At the end of the game, the Dragons won 14-8 without letting Columbia lead for a single second.
The Dragons will travel to Washington, D.C. Feb. 25 to play against the American University Eagles and will then travel to West Long Branch, New Jersey to go up against the Monmouth University Hawks. Last year, the Dragons beat American 14-4 and Monmouth 11-5.
With two games ahead this week and a win against Columbia behind them, the Dragons are fired up and ready to continue achieving their goals one game at a time.