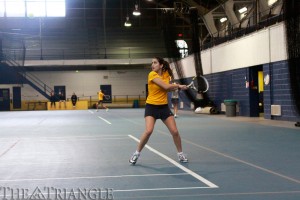 The Drexel men's and women's tennis teams return from a lengthy hiatus after months of preparation. The teams combine for an undefeated record of 3-0, with the men's team being 1-0 and the women's team being 2-0. The last time the men took to the tennis courts was back in late Oct. 2013 when they dominated Rider University in a 6-0 shutout win. The women's team also dominated their last opponent, Monmouth University, with a well-rounded 7-0 win.
Heading into the spring season, head coach Mehdi Rhazali feels pretty confident with both teams and their chances. "We are very excited to start the season, we have had a great week of practice, full of energy and purpose behind every practice. We have a long competitive schedule and the team is looking forward to it. The team is excited, therefore the coaches are excited. This can lead to many good things to happen as long as we go one step at a time and keep the same attitude, drive and confidence from the beginning to the end," he said.
After such a long break, there's only so much practice the team can do until it's game time. Meanwhile, keeping the teams focused and in shape during the break can be tough, especially at the collegiate level.
"In late October, right after the [Intercollegiate Tennis Association Northeast Regionals], I see the team practicing on their own, playing matches and requesting lessons from the coaching staff, and this lasted until Dec. 12. We provided them with a recommended fitness plan that can keep them in good shape and ready for the season," Rhazali continued. "This past week, I think it was the best practice environment I have seen since I have been in Drexel. The team looked happy to be back, they were rusty for a couple of hours, but the second day of practice they looked good."
As he pointed out, the rusty feeling can be said about pretty much every other team, too, not just Drexel. Naturally players will look ahead to games and could potentially fall into a trap, or one might think. Rhazali wasn't too worried about that as much as he was worried about two bigger obstacles: injuries and distractions to the players that are more related to activities off the court.
"My biggest fears are injuries. Tennis has become more physical than it has ever been. As a coach, I make sure that our practices and weekly plans are balanced and we pay a lot of attention to the volume of our practices and make sure that we are not burning the players out," Rhazali explained. "The other fear I have is distraction. I always tell the team that we can't do what every student does on this campus; we have a purpose that is different than [that of] a regular student. We have to sacrifice many things in order to get better and do well."
Rhazali wanted to emphasize that sometimes his athletes need to forgo staying out until 2 a.m. if there's a 9 a.m. practice the following morning. The temptation is there and that could collectively hurt the team.
The squads head to Bethlehem, Pa., to face the Lehigh University Mountain Hawks Jan. 19 for their first actual game action of 2014.