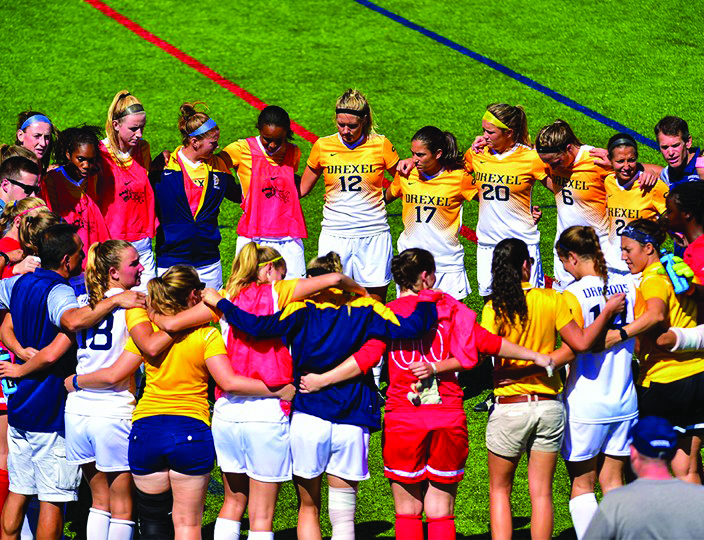 The Drexel University women's soccer season concluded Nov. 6 in the Colonial Athletic Association title game. The women defeated James Madison University 2-0 in the semifinals Nov. 4, but fell to Northeastern University 3-0 in the finals Nov. 6.
"Overall, I was very pleased with how we performed in the CAA Championships. We played a near-flawless first half against JMU on Friday. We knew they were going to really bring it in the second half and I feel that we did well weathering their effort. On Sunday, we made a few mistakes, Northeastern made us pay and that was the difference. Nonetheless, it was a great experience for our program," Head coach Ray Goon said.
Against JMU, Drexel got on the board 30 minutes into play with a goal from junior Kiera Hennessy off a corner kick from junior Kylie Strong.
The Dragons scored their second goal of the game on a free kick going into halftime. Sophomore Shaelyn McCarty was able to fire the ball into the net from 24 yards out.
The Drexel defense stepped up in the second half, keeping the Dukes off the board. JMU could not overcome the two-goal deficit and Drexel would go on to win and advance to the CAA title game.
This was the first time the Drexel women' s soccer team won a postseason game and competed in the CAA title game.
Drexel junior goalkeeper Christiana Ogunsami registered her tenth shutout of the season, which tied the Dragon's single season record.
In the CAA Championships, Drexel fell to Northeastern 3-0. Northeastern was the No. 1-seeded team in the CAA Tournament.
The Huskies scored their first goal in the 23rd minute of play and would maintain a 1-0 advantage into halftime.
Following the break, the Huskies extended their lead to 2-0, and then to 3-0. The Dragons could not overcome the deficit and ultimately fell to the Huskies.
"Defensively, we really came together as a team as the season progressed. The players began to realize that if we don't give up goals, you won't lose games, and really put forth the effort to play solid defense. By the same token, you need to score goals to win games and I feel we did this in a timely fashion throughout the conference schedule," coach Goon said.
The Dragons' final record for the season was 9-7-4.