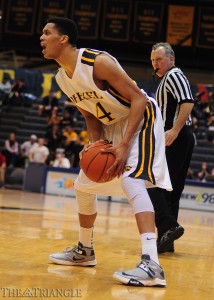 The Drexel men's basketball team has the opportunity to prevent the National Invitation Tournament Season Tip-Off's "predetermined" championship matchup from taking place  when the Dragons take on the No. 5 University of Arizona Nov. 27 in New York City in the semifinals of the tournament.
The majority of the country saw the tournament as a lot of hullabaloo funneling toward a matchup between the top-seeded Wildcats and second-seeded Duke University. Sean Miller vs. Mike Krzyzewski. Arizona's Aaron Gordon versus Duke's Jabari Parker.
It would certainly be a shame if Madison Square Garden doesn't get to witness that matchup. Because, while predicting a Drexel victory against the No. 5 team in the country would be insane, to rule it out entirely would be equally so.
Arizona has gone 5-0 while facing five opponents with a collective record of 7-15. Their only game against a team with a winning record, San Diego State University, was also their only single-digit margin of victory this season.
Meanwhile, Drexel has gone 3-1 while facing four opponents with a collective record of 10-8. Their only loss came to the No. 22 University of California, Los Angeles, a grueling 72-67 loss that featured the Dragons' worst shooting display of the season by six percent.
Yet Arizona is still the superior basketball team. In order to produce a win, the Dragons will have to be on top of every facet of their game.
The game plan must start with lockdown defense. The Wildcats have five double-digit scorers and have averaged 42.8 first-half points. Drexel has allowed just 29.3 first-half points per game through their first four contests.
A key to limiting Arizona's first-half production will be senior forward Dartaye Ruffin, who has consistently been Drexel's best defender this season. During his 31 minutes per game, Ruffin's lineups have allowed just 1.48 points per minute, the lowest such value on the team. He will see vital playing time against freshman sensation Gordon and sophomore Brandon Ashley throughout the night, especially with Drexel forward Kazembe Abif out of the game with a concussion.
Speaking to Gordon's talent, he is an extremely rough but promising freshman. His efficiency can use some work (shooting under 50 percent as a forward is typically frowned upon), but his averages of 13 points and nine rebounds per game are hard to scoff at. And pairing his size (6 feet 9 inches, 225 pounds) with his athletic skill set is a deadly combination.
It will be important for Ruffin to stay out of the early foul trouble he found himself in against Elon University Nov. 18. Even with him on the floor, the Dragons are outmatched at forward, but without him, the game becomes unwinnable for Drexel.
The Dragons' "big three" (which has quickly become the "fantastic four" with the emergence of Tavon Allen) will have to be on top of their game as well.
Nick Johnson and Gabe York, Arizona's two highest-scoring guards, average a combined 28.4 points per game and are both shooting better than 54 percent from the field. They can knock shots down from outside (York shoots 52 percent from three-point distance, while Johnson shoots 39 percent) and are also effective from the line.
They're the complete package.
But the Dragons have four capable guards, and the purported weakest defensive player of the bunch, Allen, has been coming into his own on defense lately.
"I hate to say it to him because he will get big-headed, but he is actually trying to play defense, which is not his strong suit," head coach James "Bruiser" Flint said of Allen's improved defensive efforts after the Dragons' win over Rutgers University Nov. 19.
Allen's 1.61 points allowed per minute is the third-best value on the team. He will likely see time against York and freshman small forward Rondae Hollis-Jefferson, the Wildcats' fifth double-digit scorer, who is averaging 10 points on only five shots per game.
If the Dragons hope to keep up with the Wildcats' electric offense late into the night, Allen's defense will need to continue to impress his head coach when matched up against the efficient scorers of Arizona.
On the offensive side, support scoring will be key. Without Abif to lean on offensively in the post, the biggest support scorer becomes Damion Lee.
It might sound strange, but Lee's offensive role through four games this season has been support scoring. Even though he is pouring in double digits each night and averaging just under 15 points per game, Lee has not become the next-level scorer that many thought he could be; he has yet to take over a game on his own.
However, his contributions are still good for the second-highest points-per-game average on the team, and Lee will play an integral role in countering Arizona's excellent guard play. He shot 50 percent from the field in the two New Jersey games against Elon and Rutgers, and if he keeps converting at that pace, his breakout game can't be far behind.
If the Dragons manage to pull the upset, they will face the winner of Duke vs. the University of Alabama Nov. 29 in the tournament championship game. Should they lose, they will face the loser of the game between the Blue Devils and the Crimson Tide.
Duke, as usual, boasts an impressive crop of talent, centered around freshman forward Jabari Parker. Parker poses a problem similar to Arizona's Gordon: a power forward's build with the skill set of a guard-forward hybrid.
Parker is averaging 23 points and 8.8 rebounds per game. He is a lock to be among those considered for Naismith Player of the Year, and he would pose a nearly impossible matchup problem for the Dragons. That's why Flint's squad should hope that they face Alabama on Friday.
The Crimson Tide have held their own this season, going 3-1 in their first four contests. Senior guard Trevor Releford is a formidable opponent for any defense foolish enough to think that his offensive explosiveness can be stopped, but Drexel's "four horsemen" would be able to slow him down enough.
Of course, if the Dragons can top Gordon and the Wildcats with a titanic upset, everything afterward would be … well, gravy on Thanksgiving weekend.