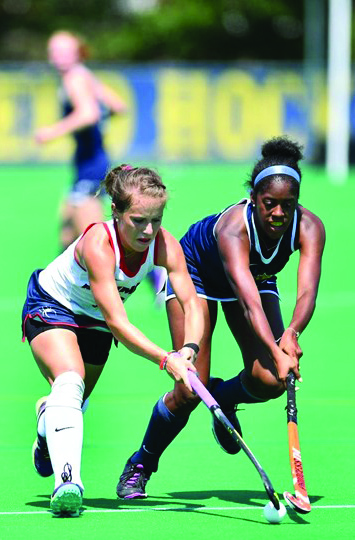 The Drexel University field hockey team had a tough task Oct. 9, to go up against a very good James Madison University team. James Madison is a conference opponent and they have been solid this season, coming into this game with a record of 8-3 and a conference record of 2-1.
It was a tough matchup for the young Drexel squad who came into the game with a record of 6-6, and just 1-0 in CAA play. It was also Alumni Day for the Dragons, which meant emotions were running high as players saw former teammates and new Dragons met old Dragons.
James Madison came out of the gates firing on all cylinders. They scored their first goal just five minutes into the first half. About ten minutes later they scored again to make the game 2-0.
The Dragons were having trouble breaking through JMU's defense, allowing JMU to score unanswered points.
Momentum in any game is always important to have. Even when it is not in your favor, it can be easily switched to your side with positive plays. The Dragons unfortunately continued to struggle to gain any points on JMU.
James Madison scored again, at the 16 minute mark, just three minutes after their previous score. Without even having time to breath JMU scored again at the 14 minute mark to make the game 4-0. Drexel struggled in this first half. James Madison scored one last time to push the game to 5-0.
Coming out of the half, it would be important for the Dragons to make adjustments and play strong. Drexel certainly played much better, but unfortunately the ground they had to cover was too much. At the 30 minute mark, senior Idrienne Walker scored her seventh goal of the season, off of an assist from senior Jessica McCarthy. Walker scored again about three minutes later to bring the game to 5-2. Freshman Tess Bernheimer assisted on Walker's eighth goal of the season.
That was the last goal either team scored for the remainder of the match. The Dragons played much better in the second half but unfortunately, they could not climb out of this hole. It was certainly a bittersweet day — bitter because of the loss, but sweet because alumni were present to keep spirits up.
The Dragons move to 6-7 on the season and 1-1 in conference play. This weekend, Drexel will face two tough opponents: College of William and Mary and American University. William and Mary will be an important matchup because it is a conference game. The Dragons will look to overcome the previous two losses they have incurred and get back on track in the win column.