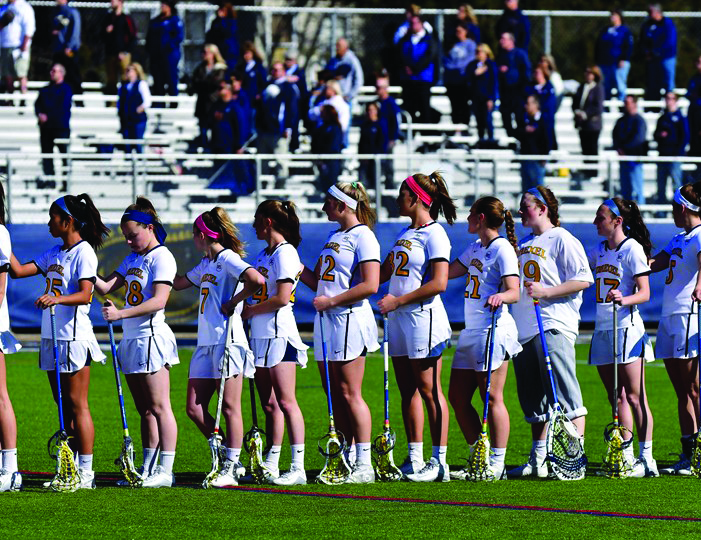 After a back-and-forth first half, the Drexel University women's lacrosse team was outscored by the University of Delaware 8-2 in the second half, and lost 16-9 at home April 29 with a bid to the Colonial Athletic Association playoffs on the line.
Delaware was dominant in the opening fifteen minutes of the game as the Blue Hens took an early 6-2 lead over the Dragons. However, from that point until halftime, Drexel went on a 5-2 scoring run to draw within one goal of the Blue Hens.
Freshman Courtney Dietzel got the run started with an unassisted goal at the 13:44 mark in the first half. Senior Caroline Thiele followed with an unassisted goal just a minute later. Delaware scored the next goal, but the Dragons once again responded with back-to-back goals, this time from graduate student Lisa Rogers and senior Devin Nihill.
Senior Lauren Gerrie scored the final goal of the first half, making the score 8-7 as the two teams went to their locker rooms.
Unfortunately for the Dragons, Delaware took complete control of the game in the second half. The Blue Hens scored the first two goals of the second frame, extending their lead to 10-7. Freshman Jamie Schneidereith scored for Drexel at the 20:10 mark, but Delaware answered by scoring three consecutive goals.
Junior Nadia Pelham-Lacey found the back of the net for Drexel with just over 15 minutes remaining in the game, cutting Delaware's lead to 13-9. However, Pelham-Lacey's goal would be the last for a Dragon this season. The Blue Hens scored the final three goals of the game and clinched the CAA fourth seed with a 16-9 victory over Drexel.
The Dragons ended the year on a three game losing streak, a disappointing end to a season in which it appeared, just two weeks ago, that Drexel was playoff bound. Drexel finished the season with a 7-9 overall record and a 2-4 clip in the CAA.
Individually, Pelham-Lacey had a standout season for the Dragons as she finished seventh in the CAA in points per game average at 3.25. Pelham-Lacey also finished with the ninth highest goals per game average, 2.12, in the conference, just ahead of her teammate Devin Nihill, who averaged 2.06.