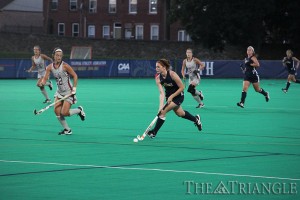 The Drexel field hockey team's goal is to improve week to week, and beating a top-10 team is a good way to start.
After two losses to tough opponents in the first four games, the Dragons are currently playing with more confidence after the tough early-season schedule.
Since then, Drexel has beaten Bucknell University and Kent State University by a combined score of 8-1. After the two dominating wins, the Dragons had to take on a top-10 program in Iowa University.
The Hawkeyes were the third top-10 team that Drexel has faced so far this season, and the Dragons finally got a win against one of the big dogs.
Drexel beat Iowa 2-1 after a back-and-forth battle for much of the game.
"The team scored a beautiful field goal in transition play early in the game, putting all the pressure on the Iowa squad," head coach Denise Zelenak said. "With the stroke going wide and our team defense playing strong, we went into halftime confident and energized."
The Dragons led 1-0 going into halftime. After the intermission, Meghan Plank scored another goal to make it a 2-0 lead for Drexel, and they held on to preserve a hard-fought 2-1 win.
"I was very proud of how well we adjusted to both our opponent and the inclement weather," Zelenak said about her team's big win.
Although this was a milestone win for Zelenak, she knows this is just the beginning of a long race.
"[This victory] shows us that any team can win on any given day, so we better bring it every game," she said.
The Dragons are trying to repeat as Colonial Athletic Association champions and make it to the Final Four in the NCAA Tournament at the end of the year.
Senior co-captain Elise DiDonato sees this win as a stepping stone to Drexel's ultimate goal.
"Each week we have been improving as a team, and our win against Iowa shows what we are capable of doing," DiDonato said. "It is important for us to continue to improve after this win and not take any team lightly."
Drexel followed that up with a big win against rival Rider University. The Dragons trailed early in the game but forced their way back with two unanswered goals by Plank and Jessica McCarthy. The 2-1 win improved Drexel to 6-2 on the season.
The Dragons are now rolling after the four straight victories and are ranked 18th in the country in the latest National Field Hockey Coaches Association Division I National Coaches Poll.
The Dragons are now going to travel to Ithaca, N.Y., to take on Cornell University Sept. 29. Cornell is currently 2-3 on the season.
Zelenak isn't looking for anything special out of the Dragons once they face off with Cornell. She is more excited for the chance to improve their play and, if they come out strong, improve their record as well.