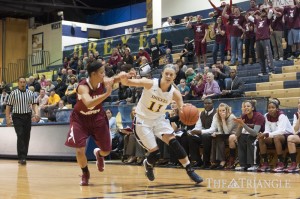 The Drexel women's basketball team continued its hot start to the season by winning the TD Bank Classic Dec. 1. The win came after a close three-point overtime loss to the 24th ranked University of South Carolina, and head coach Denise Dillon and her team were looking to get back on the winning track and capture their second tournament of the season.
In their first game against the University of Rhode Island, the Dragons continued to display their trademark stifling defense. Senior Taylor Wootton led the Dragons with 16 points and three assists. However, it was offensive contributions from unlikely sources that helped put Drexel over the top against Rhode Island. Senior Renee Johnson-Allen had her first double-digit night in a Drexel uniform, scoring 11 points to go along with her usual stellar defense. Freshman Meghan Creighton also had her first double-digit night for the Dragons with 13 points. Creighton was 3-5 from three-point range and didn't miss any of her four free throws. The offensive contribution of those three players, along with nine points by senior guard Hollie Mershon, was enough for the Dragons to earn a grind-out 55-43 victory against Rhode Island. The host team, the University of Vermont, awaited the Dragons in the finals of the TD Bank Classic.
Coming into the game against Vermont, a victory would tie the 2010-11 Dragons for the best eight-game start to any season. The Dragons received an outstanding game from senior Nicki Jones and another all-around performance from Creighton en route to defeating Vermont 66-49. The victory against Vermont moved the Dragons to 5-1 in their last 6 games and earned them their second tournament victory of the season.
The Dragons' stifling defense was on full display as they allowed only 11 points in the first half. The Dragons jumped on Vermont early, opening the game on a 20-2 run, and they never looked back. Jones, whom Dillon praised for her efforts all season, was 7-10 from the field in the first half. She finished the game 10-14 from the field with 20 points and nine rebounds. Not only did Jones contribute on the offensive end, but she also had a great defensive game. Her defensive play all season has been exceptional, and it was no different against UVM. Jones had four steals and two blocks. Her presence was key in disrupting the offensive flow of the Rhode Island Catamounts. Along with Jones' contributions, Creighton continued her stellar three-point shooting display by going 4-4 from behind the arc and finishing with 14 points. While Jones was heating up the score sheet, Mershon continued to display her all-around game by scoring nine points, grabbing nine rebounds and a career-high six assists.
Dillon's school record-setting Drexel defense is seemingly better than last year's, allowing an average of 46 points over the past six games. Dillon credited the experience and continuity of her key players for their team's stellar defensive performances.
"Obviously with some key returning players like Taylor Wootton, Fiona Flanagan, Nicki Jones and Renee [Johnson-Allen], we know that we will always have great defensive performances," Dillon said.
"It's just teamwork, knowing how to work together as a team and knowing how to enhance each other's strengths and build upon them," Johnson-Allen said about the team's ability to shut down opponents. "For us to win games we need to listen to what the coaches are saying and work together as a team. If we do that, we think we are capable of winning every game."
The victory over Vermont was the Dragons' fifth in six games. Their only loss was to a nationally ranked South Carolina team.
"I think this run shows we are ready and confident in any game we go into," Dillon said of her team's hot start to the season.
The women's team has a break of nearly three weeks until their next game, and the rest is much needed, especially with some starters having nagging injuries. However, the next time they take the court, it will be against the crosstown rival University of Pennsylvania Dec. 21 at the Daskalakis Athletic Center. Not only is this a rivalry game, but a win against the Quakers would boost the Dragons' out-of-conference record and improve their chances for an at-large bid in the NCAA Tournament. Along with an at-large bid in mind, the Dragons would also like a victory against Penn to prepare for the rigorous CAA conference play ahead.