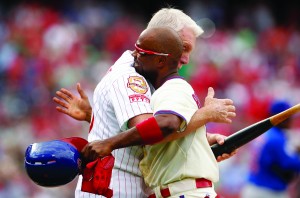 How should we judge the month of June for the Phillies? Should we say that it's been a successful month, or just the same old song and dance? The month featured a few short win streaks but not much else; as of now the Phillies are 35-41, good for 5.5 games out of first place in the NL East, which, in all honesty, is not horrible. It is possible to gain position in the division, but the chances of that happening are not to good.
It's another mediocre season in Philadelphia — with some highs and many more lows.
Atop the list of highs for the Phillies has to be shortstop Jimmy Rollins hitting his way into Phil-lies history. The 35-year-old recorded hit 2,235 June 14 against the Chicago Cubs, surpassing the great third baseman Mike Schmidt for most hits as a Philadelphia Phillie. This is a truly great feat, and one that Jimmy has worked hard for. Despite some issues with a perceived — but not always actualized — lack of hustle in years past, Rollins has been one of the most consistent players for the Phillies throughout his 14-year career.
During the pre-game ceremony that honored Rollins, Phillies fans couldn't help but smile. Seeing members of the old guard like Pat Burrell and Mike Lieberthal come back and don Phillies red one more time on was something special to watch. It brought to mind memories of the champi-onship season in 2008, which will forever be something special in the hearts of all Phillies fans and fans of all Philadelphia sport teams.
Keeping the good talk going, we'll move on to another shortstop in J.P. Crawford. Recently it was announced that he and teammate Maikel Franco were selected to play in the 2014 All-Star Futures Game. This is something that all die hard Phillies fans can look at as a sign of reassurance. With many of the core Phillies players getting older it is nice to see that there are a few bright futures coming from the farm system.
The key words there, however, are "a few." Phillies general manager Ruben Amaro Jr. has made a name for himself in Philadelphia for trading most of the team's prospects away to get proven players on the squad. This strategy was great while the winning was still occurring; however, now that the team is in more of a losing and rebuilding mode, those prospects that were traded away would be nice to have back.
It is a tough job to be a general manager, there's no doubt. Amaro took over after the Phillies after they won the championship and he wanted to keep the winning going by brining in proven players and trading away unproven but talented prospects. Unfortunately, now that the winning has stopped, it is easy to blame Amaro for causing the Phillies to have a limited farm system in a time where a well stocked one would have been handy. We should give Ruben some credit for his past and his attempt to keep the Phillies in the postseason, but when the team is struggling the way it is and its obvious they should be in rebuilding mode, Ruben needs to feel some pressure to start trading for prospects.
He seems to be in denial about this team right now, and it is only hurting the future of the club. The sooner he deems the team to be in rebuild mode the better it is for the organizations success and most importantly the fans.
Turning the conversation back to the positive, we should talk about the recent 2014 MLB Draft. The Phils' front office seemed to kick it into gear and make some picks that will be big in developing the team's farm system.
The Phillies had the No. 7 overall pick in this year's draft, and with that pick they selected right handed pitcher Aaron Nola from Louisiana State University. This was a great pick for the Phil-lies — the team will have a kid in the farm system who can spot his pitches, throw strikes, consistently get outs, and all the while has a great attitude about the game.
I watched a few videos of his gameplay as well as a handful of interviews. The gameplay was good and it made me optimistic about his future, but what impressed me the most were his inter-views, in which he looked at his dominant season last year for LSU.
This is encouraging, because it gives fans reason to believe that he will work his hardest even when he is pitching exceptionally well. It also gives fans reason to believe that through tough times, which he will undoubtably have, he will stick with what he is doing, work hard, and fix his problems. His teammates on the LSU baseball team extolled his ability as a leader and a great role model. These are key qualities for a potential franchise cornerstone, and there is no telling how far this young man will be able to go. As long as he continues to work and develop himself as a pitcher, he will make a fine pitcher for the Phillies one day.
We haven't talked much about the actual games in June, but there isn't much to comment on. The Phillies have done exactly what the Phillies can do — win games and lose more. In the month of June the Phillies are 11-12 which hasn't even gained them a spot over the second-to-last-place Mets in the division. It seems the five-game win streak in the middle of the month was only something of an anomaly.
It's definitely been a mediocre month, which will not help Ruben Amaro Jr.'s decision in picking the choice of rebuilding over retooling. As bad as it's been, the silver lining is that the Phillies are still realistically in contention. This is either a testament to how bad the NL East is, or maybe a sign that the Phillies will start winning and come from behind to win the division and make it back to the postseason.
With these Phillies, it's anybody's guess.