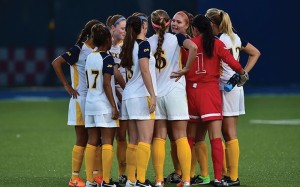 The Drexel women's soccer team was defeated by Syracuse University Sept. 17. The final score was 3-2.
The game was all defense and was tied at zero until the fortieth minute of regulation time. Syracuse got on the board first when sophomore forward Alex Lamontagne scored on an open net after Eve Badana was drawn out of the net. Syracuse would hold a 1-0 lead going into halftime.
After the halftime break, Drexel came back with a goal by freshman Vanessa Kara, giving Kara five goals on the season. Jacki Seider set up the goal with a perfect pass to Kara.
Kara commented on her experience thus far playing at the collegiate level. "Playing at the collegiate level is definitely different than high school or club. The speed of play is a lot faster and games are more physical. It is hard to adjust to sometimes, but overall I love how everything is more intense and more important," she said.
She also mentioned the reason for her productivity and success, "My season has been productive so far because of how much of a team we are. All of the older girls are always very encouraging and have a desire to win, which sets the tone for the team. We work hard to defend together, and they set me up in good opportunities to put the ball in the back of net."
Shortly after, the Orange came back to take the lead with a second goal from Lamontagne.
Syracuse would score again to take a 3-1 advantage. Senior Maya Pitts registered the goal for the Orange.
With less than 15 minutes to play, the Dragons' offense picked up its game. Sophomore Kylie Strong attempted a shot but Syracuse goalkeeper Courtney Brosnan stopped it. Five minutes after, junior Nicolette Wilkins took another shot that went off the crossbar which sophomore Madison Dunn was there for Drexel to score off the rebound, making the score 3-2.
Despite Drexel's effort, Syracuse held off the Dragons and won.
"We made a couple of mistakes that led to goals, but overall we competed well," Head Coach Ray Goon said.
Syracuse had 16 shots on goal, while Drexel had 10. Dragon net minder Badana had two saves during the game and the Orange's Brosnan had three.
The loss brings Drexel to a 6-3 record and Syracuse improves to 4-4-1.
The Dragons will go on the road next weekend to take on conference opponents. Goon said, in reference to the game against Syracuse, "It was a good test for us heading into this weekend."
Looking toward conference matchups, Goon explained, "We just need to tweak a few things heading into the conference portion of our schedule. We will look to our veteran players to lead the way before they've been there before and know what to expect."
They will first face off against the University of North Carolina Wilmington on Sept. 25, then will play the College of Charleston Cougars on Sept. 26.